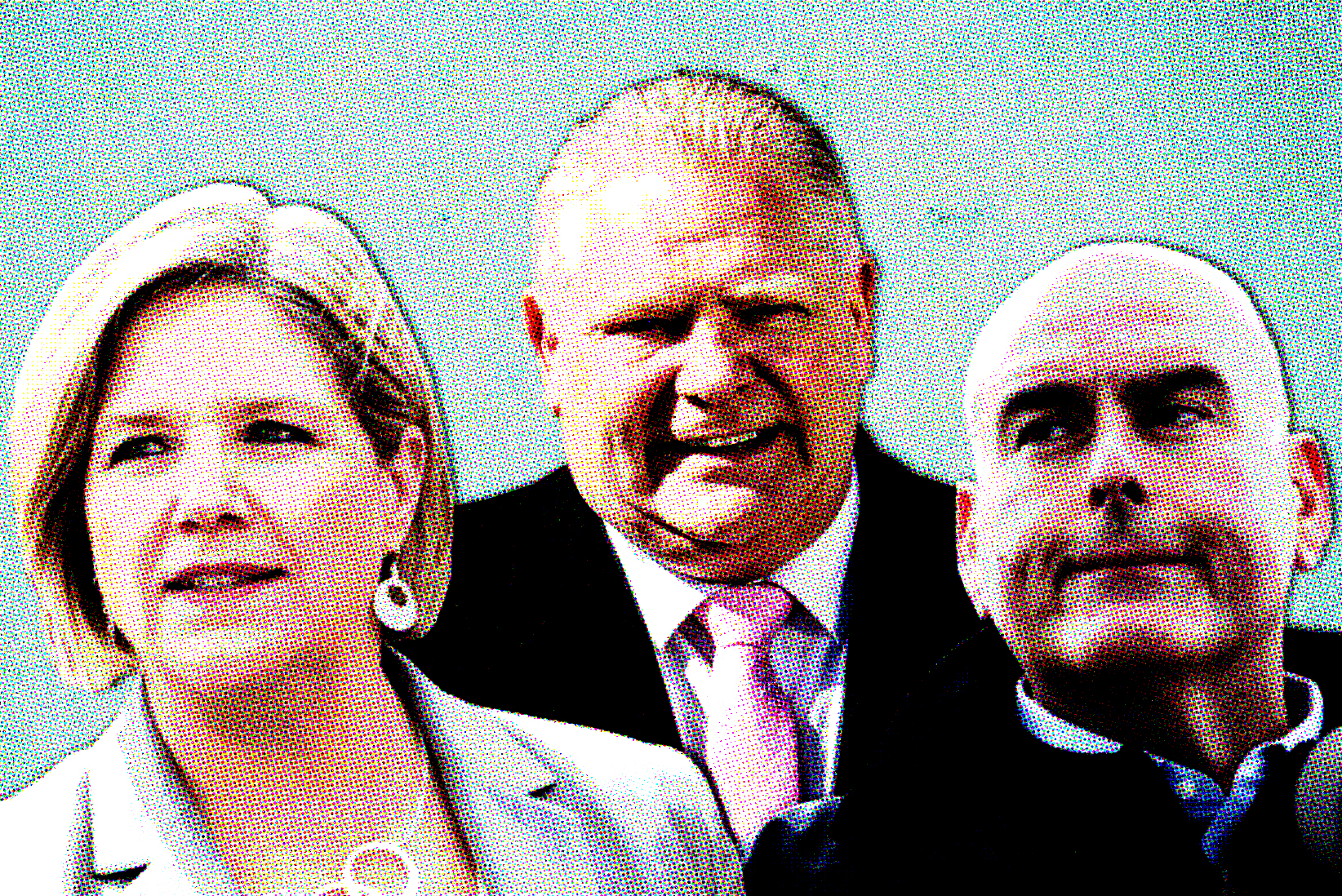 After four years of Doug Ford, Ontario's schools and hospitals languish in disrepair, public sector nurses face pay cuts, and bosses are more empowered to bust unions and block basic employment protections.
Unfortunately, while the ruling class is pushing for new cuts and new attacks, none of the main parties are putting forward a clear alternative in the election. 
Fight Doug Ford
Working class people across Ontario have their differences, but practically all of them are worse off because of Ontario Premier Doug Ford. Across the province, the Ford government has spent four years making workers poorer and sicker. If re-elected, they will only be emboldened.
Across the public sector, Ford's Bill 124 has led to pay and benefit cuts onto nurses, teachers and other workers. In schools, Ford has worked to fire thousands of teachers and further floated the idea of ending full kindergarten and dramatically hiking class sizes. He's also cut grants for low income post-secondary students and eroded funding for universities and colleges.
In the private sector, Ford eliminated paid sick days and empowered corporations to bust unions and misclassify workers as "independent contractors." His government further disbanded the province's apprenticeship ratios and empowered cities to "opt out" of union agreements.
Throughout the pandemic, the Ford government buried infection data, blocked work refusals and  never re-established paid sick days. Instead of protecting workers, Ford was busy dolling out massive corporate subsidies and empowering landlords to evict tenants without hearings. 
Ford's 2022 budget, supposedly to be adopted if the PCs are reelected, would further cut over $1 billion from education and $2.7 billion from healthcare. Overall, the Financial Accountability Office warned that Ford's spending plans would leave schools and hospitals—already overwhelmed and falling apart—tens of billions of dollars short. Given that the Ford government has already backed nurse and teacher job cuts throughout the pandemic, one can be sure these will only become more frequent if the PCs are not defeated.
The undead Liberals
Seeking to capitalize on Ford's many failings, the Ontario Liberals are attempting a comeback under "mystery man" Steven Del Duca. Fresh from laser eye surgery, the gushing Toronto Star said Del Duca's Liberals, unlike the PCs, "understand a real recovery needs to lift everyone up." In reality, a close look at the fine print of the Liberals' proposals suggests otherwise.
For example, The Liberals propose a $16 minimum wage, but not until 2023. After that, the platform suggests replacing the province-wide minimum wage with "a regionally-adjusted living wage." This will, in all likelihood, allow bosses in poorer regions to underpay workers.
The Liberals have also garnered attention for their promise to supposedly cut transit fares to $1 per ride on "every transit system in Ontario." However, they only promise to spend $1.1 billion to do it per year. Yet, the Toronto Transit Commission budgeted $1.355 billion in fare revenue last year. This funding suggests that the plan would, if implemented at all, either be incredibly slow and partial or incredibly reckless.
On education, the Liberals plan to cap class sizes at 20 and add a new grade to high school. But the Liberal plan only includes hiring two additional teachers per school, suggesting that this will be another classic Liberal broken promise.
The ever-curious Del Duca recently asked why anyone would trust the PCs "to fix the cuts they made at the beginning of their term?" One could ask him the same question.
The party's proposal to build 200 new schools is less impressive, for example, when one considers that the Liberals planned to close 333 schools when they last governed. The Liberals also promise to "begin" spending $10 billion on school repairs over "five or six years" on top of the PCs' $14 billion, 10-year pledge. But Ontario's schools face a growing, $16.3 billion repair backlog in no small part because of Liberal austerity measures, why would we trust them now? Similarly, while the Liberals' also now promise to reverse Ford's health cuts, they themselves cut hundreds of hospital beds and threatened to close entire hospitals when they had the chance.
While Del Duca opposes Bill 124, he supported the Liberals' Bill 115 which froze teachers' pay, eliminated their banked sick days and cut their retirement benefits—calling it "tough medicine." 
In the legislature, Del Duca further backed Liberal cuts, across the public sector, to "wages, benefits and pensions."
The Liberals were defeated in 2018 for a very good reason. They should not be trusted.
What to make of the NDP?
Unlike in 2014, the 2022 New Democratic Party platform offers a few reforms which would, if implemented, improve workers' lives. However, because many of the NDP's promises lack details and timelines, it is hard to see them enthusing many.
On the positive side, the platform proposes to scrap Bill 124. It also proposes legislative changes which would make it easier to unionize and strike. These include card-check certification, anti-scab legislation and language giving contract workers who do the work of employees Employment Standards Act protections. The platform also proposes to legislate 10 paid emergency leave days for all workers, a vital way to stop bosses from pressuring workers to clock in while sick, thereby endangering their coworkers.
On education, the NDP pledges to clear the school repair backlog in 10 years, cut class sizes in Grades 4-8 and hire 20,000 teachers. On healthcare, the platform further promises to build hospitals in Brampton, Scarborough and Sioux Lookout and hire 30,000 nurses.
But other points in the program are more muddled. 
The platform proposes to raise the minimum wage to $20 per hour, but not until 2026. At the moment, this proposal for $1 annual increases barely keeps up with inflation.
The proposed "Ontario Benefits" like universal pharmacare and dental care would benefit working class people. But, again, the details are lacking. While the platform promises universal dental care by 2025, there is no clear deadline attached to the pharmacare plan.
The NDP's plans to "phase out" private long-term care and raise wages for Personal Support Workers, convert student loans to grants and repair 260,000 social housing units are also potentially helpful. However, without firm timelines, the proposals are difficult to trust.
Capitalism in crisis cannot afford reforms
Doug Ford's current spending plan, with all of its cuts, still required a $41.5 billion budget deficit and a net debt of $395.1 billion.  Ontario's Financial Accountability Office noted: "The government's plan to balance the budget by 2029-30 is subject to significant uncertainty and leaves little fiscal flexibility in the event of a future economic downturn."
Already, Moody's, and the Ontario Financing Authority have appealed for cuts. While the PCs and Liberals can be expected to eagerly oblige, the NDP's plan lacks a clear alternative. Its platform promises to move towards balanced budgets by expecting GDP increases and, as needed, implementing "responsible fiscal management."
"An Ontario NDP government will manage Ontario's finances responsibly and invest to fix and deliver the services that our communities need. We'll work towards an ever-decreasing debt-to-GDP ratio through a mixture of responsible fiscal management, economic growth, and ensuring that the wealthiest among us pay their fair share."
However, while Moody's predicts 3.7 per cent GDP growth this year, as part of the recovery, that is expected to slow to 1.9 per cent soon after. CIBC and Deutsche Bank further expect new, "significant" recessions in Canada and the United States, spurred by runaway inflation, in the near term. This puts plans for an "ever-decreasing" debt-to-GDP ratio in doubt.
Simply put, on the basis of capitalism the modest reformism of the NDP is untenable. This is why Marxists say that betrayal is inherent in reformism. This is not because the reformists are fundamentally bad people or have bad morals. Some are bad people, but many mean well and want to improve things for working class families. But their desires are incompatible with the maintenance of the capitalist economy. Capitalism in crisis cannot afford reforms, and the reformists are left with the choice to either abandon their reforms or abandon capitalism. History shows that when faced with the resistance of the system, overwhelmingly reformist governments betray their promises and end up attacking the workers.
In the last election, Andrea Horwath stressed, "I am not Bob Rae." While this is literally true, there are very real similarities between the two NDP leaders. Coming out of the massive 1990 recession and facing a fall in revenue and business closures, the Rae NDP's reformist platform hit the wall of a capitalism that could not tolerate reforms.
The NDP government's labour code reforms and spending plans were frustrated by bosses who threatened layoffs and New York bondholders who ordered spending cuts. Ontario's unelected deputy ministers and bureaucrats, many of them Tory appointees, were eager to cooperate. And, after several retreats, the NDP government gave in, cutting hospital beds, tearing up collective agreements, raising tuition and, in the process, hemorrhaging much of its remaining support.
Back in 2018, during the NDP's brief surge in the polls, CBC business columnist Don Pittis assured the country's owners that they retained the upper hand. The "entrenched" power of the province's owners, he wrote, would easily quash most of the NDP's ambitions.
"An NDP government will still be subject to the entrenched power of Bay Street and the real estate industry, the automotive industry and the pro-business press. It will still have to work with the Feds, the cities, the other provinces and our unpredictable southern neighbour … If Horwath and the NDP are to win this election, they will be forced to adjust their policies in the face of the economic realities of government."
This expresses the truth of the matter. The capitalist class is 100 per cent confident that the weak ideological base of the reformists will lead to them capitulating to the dictates of capital.
The solution to the crisis is socialism
Since March 2020, COVID-19 has been allowed to kill thousands of Canadians, infect thousands more and lower the average life expectancy.
Now that the pandemic appears to be waning, we are rewarded with increasing rent, insolvency and a likely return to austerity.
On the basis of capitalism, no matter which party forms government, capital retains the power that matters. And, during crises, capital is all the more belligerent. Defending hospitals, schools, jobs and lives means breaking with the system that forces regular people to live with less so the rich can live with more.
People have an organic understanding that no matter what the politicians say, none of them really have the answers. According to a May 4 Forum Research Poll, Doug Ford has a net approval of minus 18 per cent. Del Duca is even more disliked at minus 30 per cent. This would seem to be the ideal opportunity for the NDP to sweep away the capitalist parties. But no; due to their weak reformist program Horwath is at minus 16! All the main politicians are seen as unpleasant representatives of the status quo who spark no enthusiasm.
The reason for the cynicism and lack of enthusiasm in the population is that all political parties are based on the logic of capitalism and what capitalism is capable of achieving. If the working class is to make any real change, we need to break this downward spiral. We need socialist policies. Workers need to understand that if you do not break with capitalism, it will break you.
Instead of minor adjustments to corporate taxes we need to expropriate the pandemic profiteers. Corporate profits rose to a record high $445 billion last year while workers suffered. Instead of a $20 minimum wage in 2026, we need it now, and more. Why are we waiting years and years for pharmacare, dental care, and publicly owned long term care when the lack of these things are causing thousands to die? We need to expropriate murderous long term care, and the drug multinationals, to save lives right now. Instead of failed attempts to regulate high gas prices, we need to nationalize oil and gas. Instead of minor reforms to renters rights we need to seize empty properties and construction companies to build publicly owned social housing. We need free education for students. And we need to unite all these demands in a socialist plan that can eradicate the irrational and exploitative capitalist system. 
Attempts to make capitalism kinder and more humane will be about as successful as trying to convert tigers into vegans. You cannot plan what you do not control and you cannot control what you do not own. It is hopeless to try and stop the crisis of capitalism while maintaining private ownership. We need socialist policies, nationalization, and workers' control. More and more people are coming to this realization with 35 per cent of Canadians saying they oppose capitalism and the majority of Canadians supporting socialism.
We need to give this growing movement a voice. While there is no mass socialist option in politics, society will remain in an impasse. To solve the crisis, we must fight for socialism.