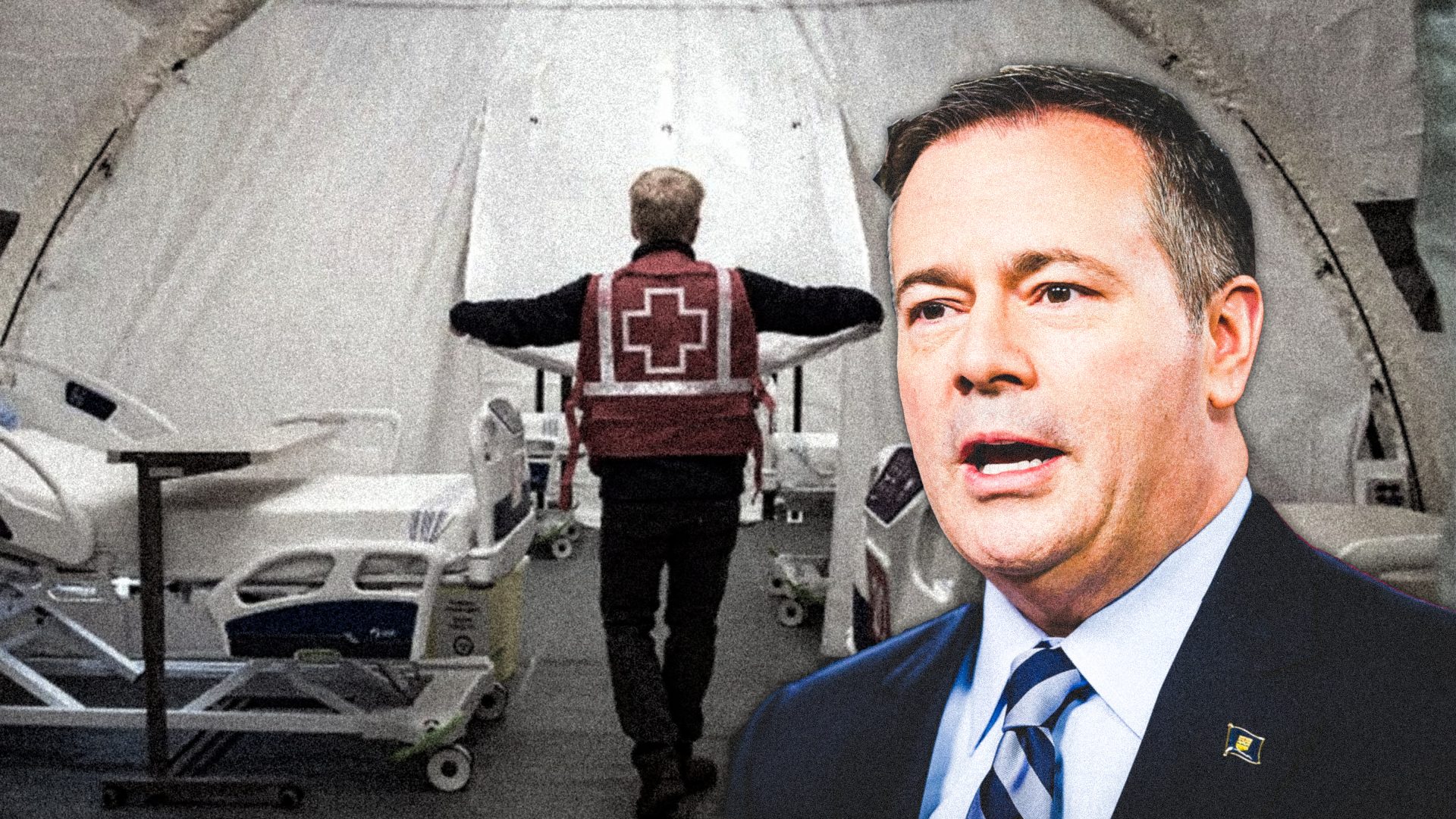 The province of Alberta continues to smash daily COVID-19 records and has the highest per capita case rate in the country. Despite the alarming rise in cases, the United Conservative Party (UCP) decided to keep restaurants, casinos, schools, and bars open throughout the province until Dec. 8.
On Dec. 3, Alberta posted 1,854 new COVID-19 cases. That same day, Ontario, with a population three times Alberta's, broke its record with 1,824. As of Dec. 6 there are 19,484 active COVID-19 cases in Alberta with 601 hospitalized and 100 in ICU. Leaked documents suggest hospitalizations could reach 775 by mid December.
Hospitals and health-care staff are being overwhelmed on all fronts, and on Dec. 2 it was announced the UCP had asked the federal government and the Canadian Red Cross to supply field hospitals. The field facilities, set to be installed in the coming weeks, will have a capacity of 750 non-ICU beds to make room for ICU patients inside hospitals.
Hospitals in Edmonton have had to double-bunk COVID-19 ICU patients, which involves fitting two intubated persons and all their equipment in one room. Dr. Ilan Schwartz from Edmonton expressed the urgency of this development saying, "We can't provide optimal care like this." Speaking on double-bunking, one ICU doctor in an Edmonton hospital said "other ICUs have either been pushed to the edge as well, or are just absolutely drowning."
On top of this, a recent Alberta Health Services (AHS) memo called for oxygen rationing, saying "due to limitations of the bulk oxygen systems at some adult acute care sites in Calgary and the expected increase in demand due to the COVID-19 pandemic, we need to reduce the demand on the bulk oxygen system."
Health Minister Tyler Shandro said the memo presented a contingency plan and is something that happens "often throughout any given year." Others in health care disagree, such as Dr. Miriam Berchuk, who tweeted the memo and wrote, "I've never had this happen in all my years of practice."
Documents obtained by CBC News showed AHS officials discussed plans for field hospitals on Nov. 23 and toured sports facilities at universities in Edmonton and Calgary a day later. One Edmonton critical-care doctor said, "I think what it tells us is that as early as Nov. 23, the provincial government knew what I think many of us knew: that we were heading for a potential disaster."
The request did not include any additional staff, even though Alberta's hospitals have been understaffed for years. If hospitals barely have enough staff to run now, who is going to staff the ones in tents? The UCP has only referenced potentially calling in the military, in case the wartime-like catastrophe scenario was not apparent enough.
The field hospitals are slated for sites like the University of Alberta Butterdome and the Saville Sports Centre in Edmonton. Things like running water, sewage, electricity, and oxygen must be set up, with none of the fine-tuned air and water handling systems or food services a hospital provides.
"When you suddenly disrupt a system that works with a new system, you find mistakes happen," said Dr. Darren Markland to CBC News regarding field hospitals. "And mistakes with critically ill patients lead to death," Markland added.
But according to the UCP, there is nothing to worry about here. The field hospitals are nothing but foresight and contingency, with Kenney saying "I think it's a sign of responsible planning on our part for [a] potential extreme scenario," adding, "We are not anywhere at the point of having to call on that kind of overflow capacity."
Dr. Tehseen Ladha says it's not a question of if, but when, the field hospitals will be used, telling CTV, "If you look at our case rate and the fact five percent of each COVID case is hospitalized, and if we're looking at (1,600 to) 1,800 cases a day, we're looking at 40, 50, 60 hospitalizations per day," adding, "There are not that many hospital beds in Alberta."
But Shandro doesn't see this as a red flag. He says the field hospitals "may or may not even be used."
Even if Shandro is right—and all signs suggest otherwise—these facilities would be worth more than gold in many parts of the world. Why is the richest province in one of the richest countries in the world asking for supplies from an international charity which "may not even be used?"
The answer lies in the billions of dollars in bailouts and tax cuts to the oil and gas sector. These handouts have for years come at the expense of our health-care system, schools, infrastructure and public programs. The UCP is currently attacking doctors, privatizing hospital services, and planning to lay off up to 11,000 health-care workers, all while cutting corporate taxes and gutting labour laws. Jason Kenney has prioritized the needs of businesses rather than fighting the pandemic. This is the politics of wealth before health.
This has been a long-standing tradition in Alberta. The province currently has 8,515 acute care beds, but if it had the same beds per 1,000 people it did in 1989, there would be 24,000. This erosion of health services has resulted in the UCP government having to ask the Red Cross for tents to house the sick and dying.
Field hospitals are an admission that we are reaching a critical tipping point, and they are a reaction to a preventable scenario—one the UCP has made much worse by keeping workplaces and businesses open as cases skyrocketed. We have the ability to send all non-essential workers home with pay while properly staffing real hospitals, not ones in tents.
"This is damage control right now," said Dr. Markland about the field hospital plan. "This is where you send people so that they're not seen to be dying in the streets. But the next step is refrigerator trucks."
This is the reality we are facing. The UCP has shown that it cannot be trusted to manage the pandemic. The UCP's handling of the pandemic is turning into a disaster, with deadly results for working people. The Kenney government has not been concerned about managing a response to the pandemic; it has only been interested in maintaining the profits of the capitalists.
The working class is suffering the brunt of the pandemic. This is a direct result of the Kenney government's policies of wealth before health. Workers must direct workplace safety and the management of the crisis in general through workers' control and must fight for a bold socialist plan of action in response to the pandemic and to save lives.
If important life-saving actions need to be made, health-care workers should have direct control without being sidelined by the UCP, as recent leaked recordings of health official meetings exemplify. Also, if there are supplies held by the private sector that could be utilized to fill shortages, such as the oxygen shortage, they should immediately be expropriated to save lives. Only such measures can turn the tide in the fight against the virus and prevent unnecessary deaths.
The disaster response should be planned by those who know best: doctors, nurses, and other health-care workers, together with the unions and representatives of the working class. They should be the ones with direct input, running the system, planning lockdowns, and allocating resources. The UCP created the problem and is only concerned with protecting the interests of the capitalists. The workers need to take control to get us through this nightmare.