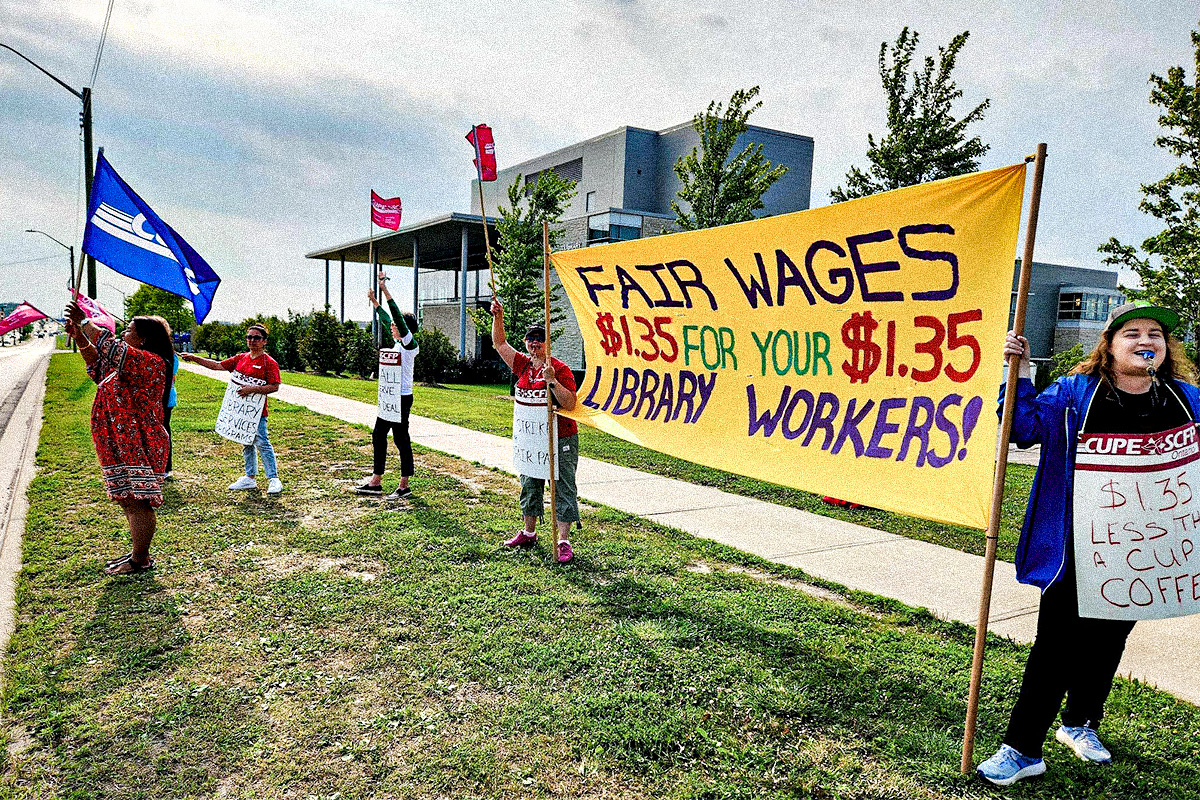 Library workers in Bradford, Ontario have now been on strike for six weeks, seeking their first union contract to protect them from wage and benefit cuts.
Cuts for workers, bonuses for management 
Thirty-six Library workers, represented by Canadian Union Of Public Employees (CUPE) local 905 have been on strike since late July—making it the second longest library strike in Canadian history. The local is seeking an across-the-board increase of $3.70 over two years. As most of the local's members earn at or near minimum wage and part time hours, that would work out to an increase of roughly 20 per cent.
The Bradford West Gwillimbury library board, however, demanded that the workers accept effective pay cuts. Since the workers joined CUPE in 2021, inflation has risen by 14 per cent and it is likely to exceed three per cent this year. Yet, the board offered the workers an 11 per cent "increase,"—spread out over four years. Aside from failing to even make up for what the workers have lost since they first joined the union, this "increase" is unlikely to exceed annual inflation going forward. In effect, the board offered the workers a pay cut.
Library worker Judy Koulis told Bradford Today: "My hourly wage has not increased, but the cost of living has. The food I have to buy has increased in price, the gas I have to buy to put in my car has increased in price, my rent has increased in price, my health and dental costs have increased in price—all of these cost have to be paid with a wage that hasn't increased in five years."
CUPE Local 905 president Katherine Grzejszczak said, "Inflation in Canada has hit 14 per cent between 2021 and 2023. If you're making $20 on Jan. 1, 2023, you would only be making $22.30 by the end of 2026. That is still a poverty wage and that is why we rejected that deal."
The workers' boss, Library CEO Matthew Corbett, tried to defend the cut by dividing the union's members. According to him, the union's demand for "an across-the-board dollar increase in the hourly rate" would merely  "exacerbate" the workers' existing pay differences.
Why, then, he is demanding they take an across-the-board pay cut is conveniently unexplained.
Meanwhile, Corbett himself made sure that his own salary reliably increased. Last year, the CEO's pay increased by over $10,000 to $135,000—over seven per cent—while his low-wage workers took pay cuts.
No to binding arbitration
On Aug. 29, the board's CEO publicly demanded the union end the strike and enter into binding arbitration. As we've stated before, arbitration is a violation of rank-and-file workers' rights to determine their conditions of work. Instead,these decisions are put in the hands of "neutral" lawyers and adjudicators, to find a "compromise" between the union and the boss over the heads of the membership. It is little wonder why, in most cases, these arbitrators side with the bosses and impose the cuts that the bosses demand.
Noting that arbitration could drag on for up to another month,  the local's president dismissed the request. Speaking to Bradford Today he said, "The mayor and council will do anything to avoid giving these workers a fair raise. If they truly wanted the library open, they could easily end this strike today. But instead of providing fair wages, they're spending yet more library funding on a lengthy legal fight."
Victory to the workers
These cuts extend well beyond Bradford. Across the province, Premier Doug Ford has vowed to make provincial funding contingent on cuts to supposedly "non-essential" services—like libraries.
But libraries are not only places for people to get books. They serve as vital community centres that provide many services, especially to children, seniors, and new immigrants. Cuts to these programs, enabled by the municipal and provincial governments, will have devastating effects across the province. They need to be fought.
Across Bradford, meanwhile, the strikers have found support. At a recent council meeting, over 250 community members and library workers crowded into the chamber to support the library staff. After one resident shouted "The CEO of this library needs to go, because he's treating these people like crap," the speakers list was closed.
This natural sense of solidarity needs to be deepened and organized against the council and against the Ford government. United, the working class can beat back cuts to wages, benefits and to the services which working class people depend on.