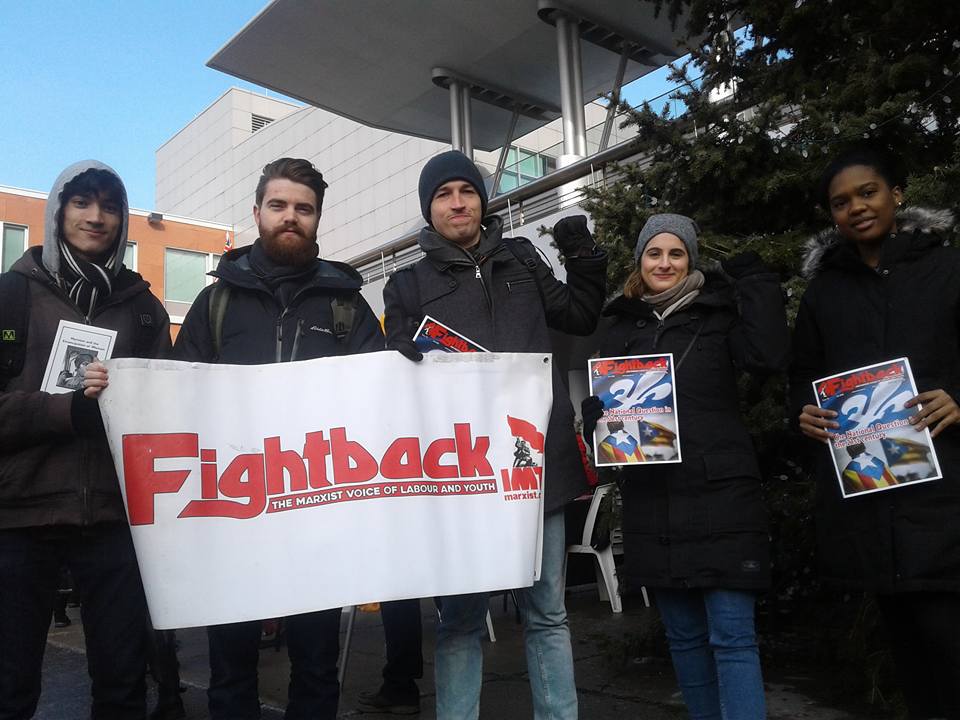 On May 1, an outdoor May Day celebration was organized in the Kitchener-Waterloo area at Victoria Park. This celebration of working class struggle and solidarity is an important tradition where different trends within the workers' movement come together in the spirit of internationalism and class struggle against the capitalists. It is celebrated every year across the globe.
The comrades of Socialist Fightback Waterloo had known about the event a few weeks before, and emailed the organizers on April 16 to arrange the setting up of a stall. To our surprise and disappointment, we received a short response by the organizers on April 28 indicating that we would not be welcome. More specifically, they did not want us "showing up with visible Fightback materials". No details were given on how this decision was made or why it was made.
We were shocked by this response. Indeed, the details for the event specified that "our goal is to create a space and event that is inclusive and free to everyone; grounded in mutual aid, voluntary participation, and personal/collective autonomy without authority" (see appendices). We felt that it was an act of bad faith by the organizers which clearly contradicted the spirit of May Day and even the event's own description.
We decided to participate in the gathering anyway and went to the public park to set up a stall in order to engage people who are interested in revolutionary Marxist ideas. As soon as we started setting up, people began approaching us, asking about our group and curious to know what we stood for. Some were even curious to learn about Trotskyism. Unfortunately, soon after we had set up, we were aggressively approached by a group of activists who demanded that we leave.
The two activists who led the charge were from the Revolutionary Communist Party/Revolutionary Student Movement (RCP-RSM) group in Waterloo, who had their own literature stall set up at the event. There were also anarchists who supported this effort to push us out of the gathering. This was especially hypocritical coming from anarchists whom one would assume would be opposed to such an authoritarian act. When we asked why we were being surrounded and asked to leave, we were told by the RCP members that we had been asked not to come and that the reason we were banned were "the issues at York". Sam, who was one of the prominent members of the RCP-RSM, claimed Fightback is "an organization that harbours rapists".
Regarding the events at York University you can read more about that here. We have still not received any concrete allegations, which demonstrates that they are not serious about dealing with questions of sexual violence but simply want to censor and ban us. We also highlighted that some of the individuals who were trying to remove us from the May Day rally had attended our meetings at the University of Waterloo last September, where they were freely allowed to distribute their own literature. However, when it is our activists doing the same at a public gathering, it suddenly becomes a crime! When we told them it was unacceptable that a socialist group was getting banned from May Day, they responded sarcastically about us being Trotskyists and questioned whether we were actually socialists.
Given the circumstances and the small size of our group, we decided to make a temporary retreat. We were shell-shocked by the political intimidation and policing that had just occurred. Immediately after we packed up our stall and literature, the Maoists and anarchists left us alone. The issue clearly was not just our presence, but our presence as an organization with newspapers, booklets and banners (i.e. political ideas and program). These actions are in direct contradiction to the traditions of May Day and only serve to weaken the movement.
Maoists expand censorship campaign
Fightback is clearly facing a campaign of political censorship and political bans. The Maoists, anarchists, and intersectionalist gang are clearly spearheading this witch-hunt which began at York University. The Maoist/Stalinist RCP-RSM organization is playing a particularly active and pernicious role in this campaign.
This shows the real implications of the political ban and censorship directed against Fightback at York University. It started with the expelling of Fightback from a sit-in at York University. Soon after, we were banned as a group from CUPE 3903 picket lines and spaces. Not satisfied with that, the ban was then expanded to exclude all Fightback activists from organizing picket line solidarity at York University altogether. Even members of CUPE 3903 were kicked off their own union's picket lines! Today, this ban is being applied to an open May Day gathering at a public park in Kitchener-Waterloo. And it may yet expand further.
This is not the first time that that Maoists with the RSM-RCP have had issue with Fightback activists simply expressing their opinions at meetings, discussions or in writing (see appendices below). The Maoists demanded that Fightback not participate in a public meeting held by them last year, but by their own admission, the members of Fightback were respectful and simply expressed their opinion in the discussion.
The Maoists and anarchists are threatened by us because they cannot answer us politically. That is the reason they resort to anti-democratic measures against us. They know we are growing quickly across the country. We are being targeted in Kitchener-Waterloo because it is a city where we are relatively weaker. The Maoists and anarchists know that we will grow in the Kitchener-Waterloo and are not confident in their ideas. They want to halt our success with bureaucratic measures.
Political bans and censorship in the labour movement do not respect borders. The measures instituted by CUPE 3903 are now being applied outside of York University at a time when many are doubting them at the campus. These methods are already being used to target activists and organizations other than Fightback. This is setting a precedent for how political differences are to be dealt with in the movement.
Don't shut down the Marxists, shut down the fascists!
These methods are entirely reactionary. Just as the strikers of CUPE 3903 need support on their picket lines, which these methods have harmed, similarly, the small but growing movement in Kitchener-Waterloo only benefits from united action around common mobilizations such as May Day.
Free debate and discussion help raise the consciousness of workers, students and youth. People learn from considering the positions, hearing the debates, reading the polemics, and observing the actions of different political trends in the movement. Limiting democratic rights harms working class and revolutionary consciousness. It also weakens the movement by dividing it bureaucratically. If the picket lines or demonstration are better attended, they are stronger.
At a time when far-right and fascist speakers have mobilized into the Kitchener-Waterloo area, such as Faith Goldy, Lindsay Shepherd and Frances Widdowson, these attacks on Fightback are clearly counter-productive. Students and workers would like to see and participate in a strong movement against these reactionaries.
Fightback is no stranger to the attempts of the alt-right and fascists to try and limit our democratic rights. The program of the fascists is to use violence and repress leftists, socialists, and all workers' organizations, along with particular marginalized groups such as racial, religious or sexual minorities. Socialist Fightback Hamilton was targeted last fall/winter by the Proud Boys organization and the McMaster police. In Toronto, our organization has been targeted by fascists and racists, who have torn down or vandalized our posters, harassed and tried to intimidate our members. The reactionary professor, Jordan Peterson, has targeted our activists and goaded his far-right followers to harass us through a doxxing campaign. This last attack followed a demonstration against Jordan Peterson and Faith Goldy co-organized by Socialist Fightback at Ryerson University.
United action is required to shut down the anti-working class and bigoted poison coming from the far right. These people should be given no platform to mobilize around their program of violence and anti-democratic repression. Instead, the sectarians are preoccupied with censoring and no-platforming Fightback, an organization that has been actively involved in the anti-fascist movement in Toronto. What sense is there in this?
This is a disgrace and will not be tolerated. Fightback rejects this attempt to censor us. Furthermore, we intend on continuing to expose and mobilize against these reactionary methods in the movement.
To wage the most effective struggle possible against the capitalists, the capitalist state, the reactionary politicians and the far-right organizations, the worker and student movements need to fight to maintain their democratic rights. Any attempt to take these democratic rights away serves to sabotage the class struggle.
Defend democratic rights in labour and youth movements!
Bureaucratic and Stalinist methods harm the struggle!
End the censorship and intimidation campaign against Fightback!
Shut down the far-right! United action against far-right bigotry, intimidation and violence!
Appendices
May Day in Kitchener-Waterloo Event Description
A May Day celebration and re-affirmation of community self determination and resiliency!
May 1st, 2018, 5-9 pm
Victoria Park, downtown Kitchener
Clock tower
The Revolution we call spring has arrived!
You, your friends, family, neighbours, and wider community are invited to join us in celebration of our collective resiliency as we thaw out together after a long winter.
Our goal is to create a space and event that is inclusive and free to everyone; grounded in mutual aid, voluntary participation, and personal/collective autonomy without authority. (our emphasis)
In this space, we can feast, create, dance, and celebrate while we build connections with one another.
We are dreaming up a family friendly event that will kick off with a few hours of diverse activities, followed by a potluck, and ending with a dance party.
The best part?
We all get to decide what this gathering looks like!
By supporting one another with our combined creativity and personal strengths, let us be reminded of the potential we have in shifting dreams into action together.
We'd love to receive your proposal of what you would like to bring to this event!
Whether you're interested in hosting a workshop, providing live music, facilitating kids programming or cooking a few main dishes for the potluck (or anything else) let us know! You can reach out to kwmayday@gmail.com with your awesome ideas.
We acknowledge that this event will be occurring on stolen lands that are part of an ongoing history of colonization and violence. This event is occurring on the lands of the Haudenosaunee, Anishinaabe and Neutral Nations. Kitchener-Waterloo is part of Block 2 of the Haldimand Tract, the territory of the Six Nations of the Grand River, which spans 6 miles deep on each side of the Grand River. As non-Indigenous and settler peoples we benefit both from this accessing and living on this land, and the ongoing stewardship and resistance of Indigenous peoples. Colonization, and the ongoing resistance to it, must be at the forefront of understanding and working within our local context, our desire to strengthen our relations with Indigenous peoples and communities, and how we live out our values and desires for better futures.
Facebook link: https://www.facebook.com/events/195472461055628/
Correspondence with May Day organizers (April 16th & 25th)
On 16 April 2018
Literature Table on May Day
Hello,
I'm an organizer with Socialist Fightback Waterloo, we're a socialist organization active in KW. We were wondering whether you would welcome us attending your event and setting up a literature table during the festivities on May Day.
Solidarity.
Stephen
———–
On Apr 28 2018
Reply
Hi Stephen, to be honest we are not interested in socialist fightback tabling at our event or showing up with visible fightback materials.
Thanks
Adam
for the May Day organizers
Previous Correspondence between RSM-RCP and Fightback (July 23-25th, 2017)
Sam MLM is a member of the RCP-RSM who led the effort to limit our democratic rights at the May Day gathering this past week.