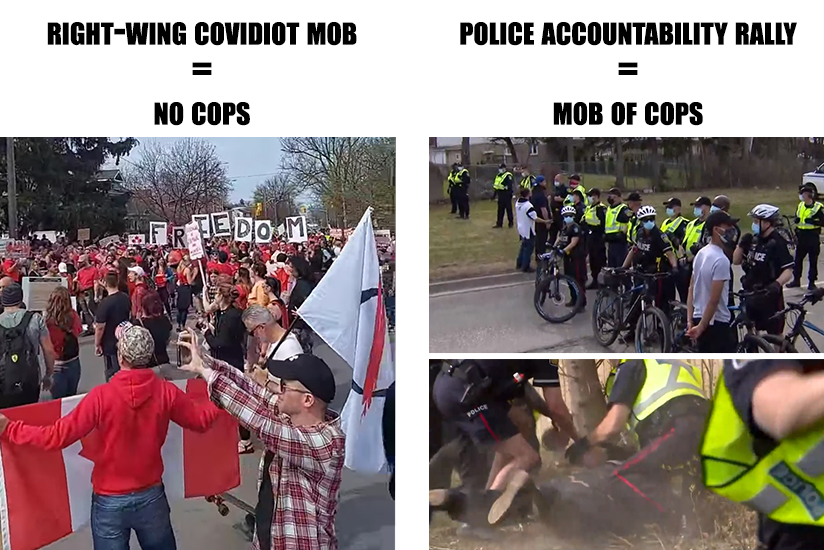 On Saturday, April 10, cops harassed Malton protesters for daring to protest police impunity in the killing of Ejaz Choudry. Meanwhile, at exactly the same time, police were passive as a far-right superspreader mob descended on St. Catharines, Brantford and other towns. This shows the blatant double standard of state forces and the need for the labour movement to confront both police violence and the far right.
Police attack Malton protesters
On June 20 last year, 62-year old Ejaz Choudry was killed by Ontario police during a "wellness check"—after his family reached out to a non-emergency line for help. He was by no means a threat to the police or anybody else. The father of four was, the Toronto Star reported, "essentially detained in his own home." He was insisting that police get a warrant and asking to be left alone. Police stormed his house supposedly because they were afraid for his well-being and concerned that he would harm himself. But instead of helping him they shot him dead.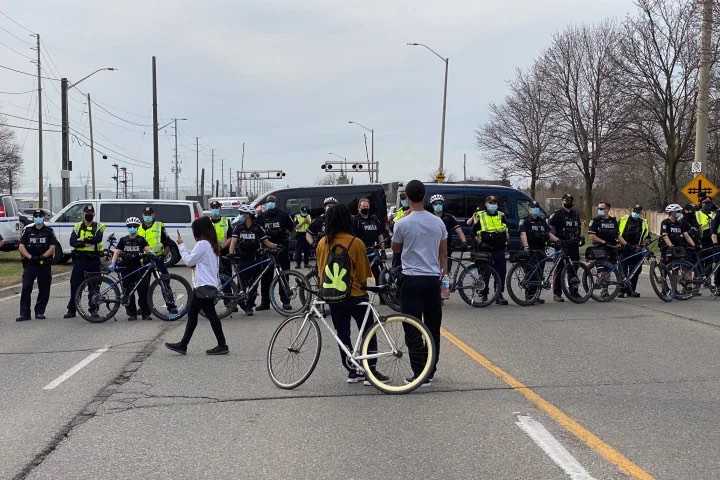 Only after a nine-month delay did the Special Investigations Unit (SIU) reveal that they would be taking no action for the needless killing of Choudry. To add insult to injury, the killing officer refused to speak to the SIU or share his notes, and to this day the police and SIU are refusing to release his name.
Justifiably angry at the blatant police impunity, about 50 anti-racist demonstrators associated with the Malton People's Movement assembled on April 10 to demand accountability. The OPP reportedly responded by deploying more than 75 well-equipped officers in a line blocking off the street. So far, no justification has been given for the police line.
CityNews reported that following a scuffle, police "grabbed the protesters and roughly threw them to the ground." News footage shows at least one man being chased down by four officers who tackled him and pinned him to the ground. One officer also appears to punch the man, while he was pinned (see 1:19).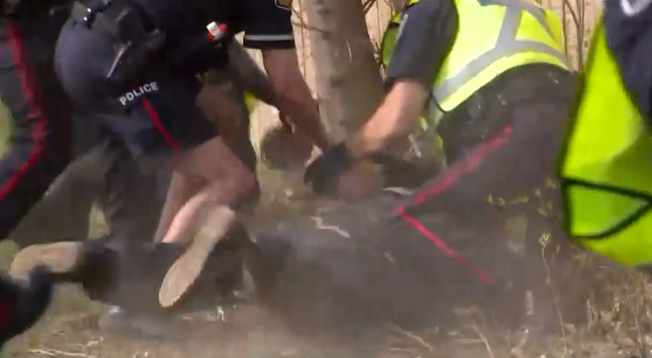 Seven community members were arrested and charged with "disturbing the peace." The Malton People's Movement noted, "Peel Police responded to peaceful protest with violence. An officer lunged at, tased, and punched a Malton community member in front of his daughter before arresting him. Another officer pulled a protestors' [sic] hijab, while yet another cop brutally assaulted a female protester and said he would do it again."
"When we're trying to protest to release the names of the officers… this is their response to people demanding basic justice for their families," protestor Jahan Ul-Nisa told CityNews. "When we tried to intervene to get our supporters back, they arrested and grabbed more people."
For those wishing to support the protesters, Malton People's Movement has set up a donation page here.
Kid gloves for far-right superspreaders
Meanwhile, in Brantford and St. Catharines, far-right anti-masker protesters gathered freely to flaunt basic public health precautions. Some of the groups represented at these and other recent anti-masker rallies included QAnon, PEGIDA, the Canadian Nationalist Party and others. There is ample evidence that these anti-lockdown protests are leading people into extreme far-right circles. Yet, police barricades of the sort seen in Malton were entirely absent.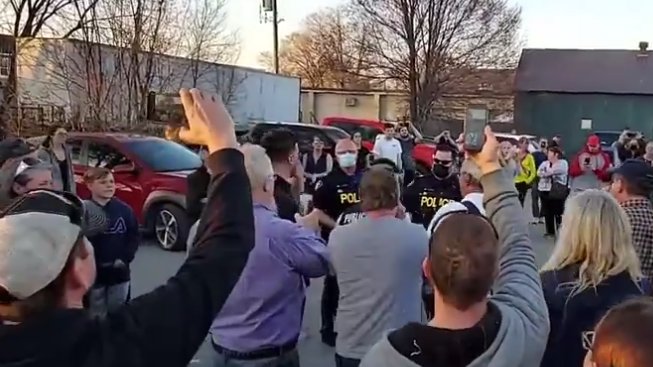 In St. Catharines, hundreds of unmasked right-wing protesters assembled outside a Lake Street hair salon to protest recent COVID-19 precautions. They were joined by far-right QAnon supporters, anti-vaccine conspiracy theorists and other deranged elements. In Brantford far-right protesters were joined by former Tory MPP Randy Hillier. None were social distancing and none were wearing masks. In neither case were they surrounded by police.
Indeed, one St. Catharine's far-right protester even wrote on Facebook:
"The police officers, as ALWAYS were incredibly nice and friendly. In fact, they blocked the road off for us with their trucks. We had intended on walking on the sidewalk. They escorted us, and made crossing intersections safe. There were plain clothed police officers marching, as well as politicians, doctors and nurses."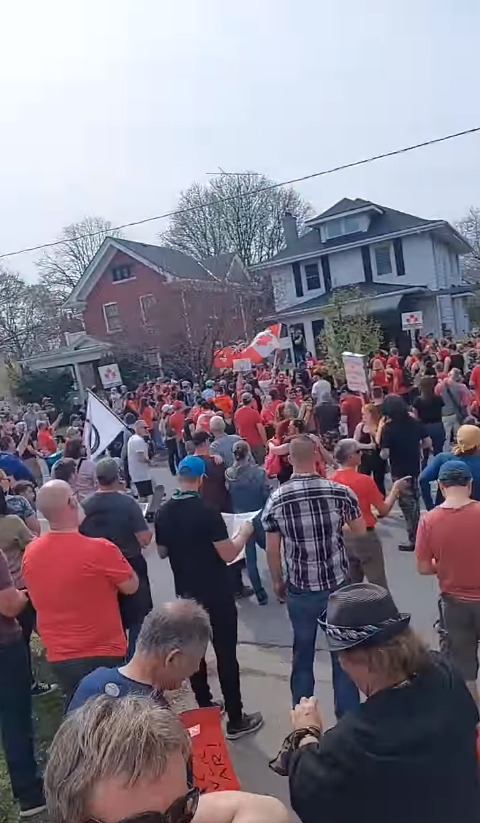 In Kemptville, Ontario, one far-right organizer even promoted a video of police being "chased away" from the far-right "mask burning" rally. The local mayor acknowledged many travelled from outside the city to defy COVID-19 precautions at a local restaurant. Yet, the Ottawa Citizen reported, meanwhile "two OPP officers patrolling the event told reporters they were there to keep the peace and ensure the revellers did not get the confrontation they were seeking." In clear contrast to Malton, the far-right even posted a video on BitChute bragging that they "chased away" the two officers sent to patrol the mask-burning.
What this double standard means
There is a clear double standard at play here. Demonstrations organizing against racism and police murders are attacked and subject to arrest. But far-right mobs are free to risk wide-scale infections.
The latter are the real ones disturbing the peace. As we've noted previously, the current pandemic has come with hate crime surges—by desperate, middle-class elements who have found themselves in the orbit of the extreme right. Given the rates of violent eruptions by far-right activists against oppressed communities, any sign they are emboldened is serious cause for concern. The fact that the police continue to attack police accountability protesters while mollycoddling the far right signals a favouritism at play.
In the struggle to defend working class communities against racist attacks, this is a further reminder that the police will not keep those communities safe. Labour and community organizations must mobilize, depending only upon our own strength.