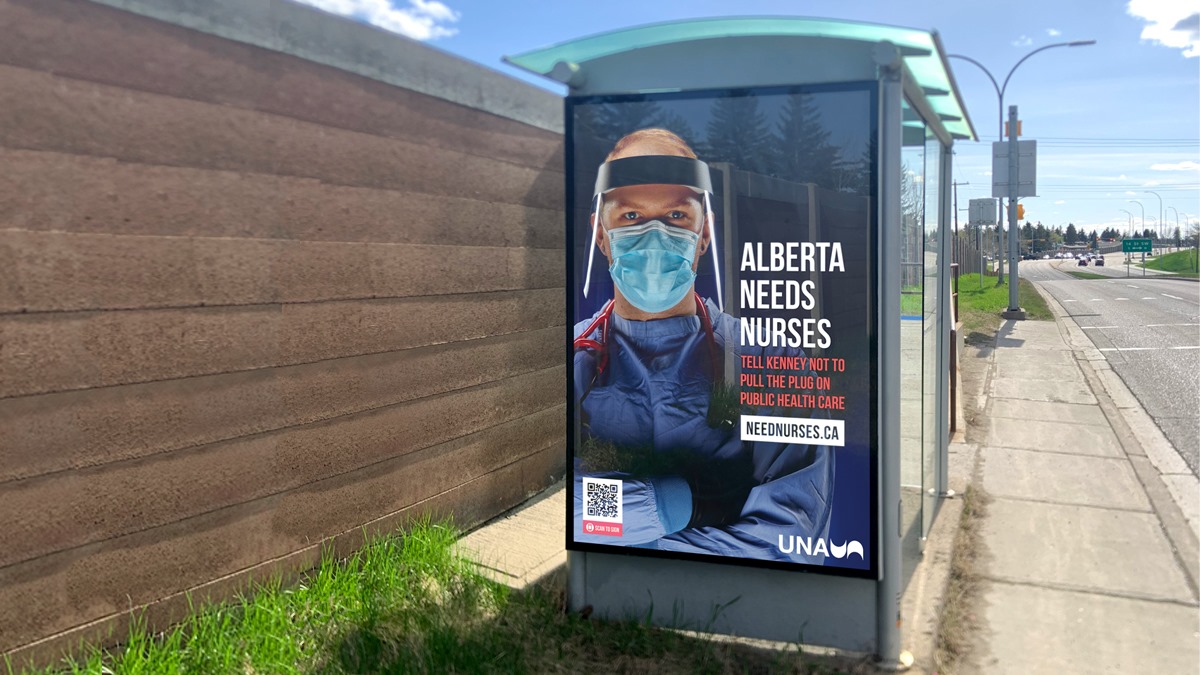 Nothing says "Thank you health care heroes!" like a wage cut. After 16 months of fighting a global pandemic, Alberta nurses are faced with a proposed three per cent wage roll back in an effort to "get the province's finances back on track" according to United Conservative Party (UCP) Finance Minister Travis Toews. Combined with lower shift and weekend premiums, plus the elimination of lump sum payments, this cut could be as high as five per cent. Hospital units are already understaffed, nurses are overworked and exhausted, and further cutbacks will lead to compromised patient care and continued brain drain in the province.
While this cut back is disappointing and enraging, it is not surprising. The UCP government has been going after public health care and other public services since winning the election in 2019. Kassandra Kits, press secretary to Minister Toews, argued that nurses' pay needed to reflect the government's financial situation: "That's why we're offering nurses job security in exchange for a modest decrease in compensation—it's the most fair and reasonable offer."
After nurses spent the better part of two years being put through the pandemic ringer, this announcement was sure to spark some controversy. The UCP, however, wants to assure healthcare workers that it's nothing personal. "The need to bring wages in line with other large provinces does not diminish our deep respect for the exceptional work and dedication of public sector workers," said Toews.
This offer is not fair nor reasonable. In reality, nurses in the province make wages on par with the national average, while Alberta has a higher cost of living than most other provinces. This argument has been beaten to death by the UCP time and time again—that public sector workers in Alberta are the "highest paid", so they should be okay with a rollback. Much of the time it simply isn't true. But even if it was, the public wage rollbacks are scandalous. This is even more so the case when the UCP is continuing to give tax breaks and bailouts to private corporations. Two days before Travis Toews announced the intended cuts, the UCP government handed over $825 million to the oil industry to bailout the failing Sturgeon Refinery. The money given to the oil barons in this deal alone is 5.85 times more than what the cuts to nurses pay would save!
Jason Kenney and the UCP are once again taking from public sector workers to cover for their corporate giveaways and gambling losses. Corporate handouts continue with little to no return, yet the workers who are keeping the province running during the pandemic, like nurses, are attacked.
Rather than bargaining with the United Nurses of Alberta (UNA), this government and its representatives have taken their offers to the media. The goal of the UCP seems to be to convince the public that nurses are lazy and overpaid, in order to pressure them into taking this cut. The UCP have engaged in a flurry of press releases, "expert" panels, and conferences throughout their war with the public sector. Instead of any sort of cooperation or bargaining with the public sector, the UCP have simply stated their demands into a microphone, or typed them up in a tweet. Good faith bargaining is off the table, if there ever even was a bargaining table to begin with.
Nurses across the province want to fight back. UNA president Heather Smith, said that union members feel this is like "being kicked in the gut" and members are already asking "when is the strike vote?" She also explained that many members want to "exercise our right to strike," adding they want to speed up the process to get on with a strike and saying that, "There's certainly some who would suggest that legal or not, we should do it now."
This is a huge development. Nurses are so exhausted, insulted, and angry that at least some are prepared to take illegal strike action to fight for their livelihoods. Nurses should defend themselves from the UCP with strike action, legal or not.
This move could very well be the tipping point for job action and a turning point in the class struggle generally in Alberta. Rallying all nurses, both urban and rural, would be key for a successful strike. At this point there is infinitely more public support for nurses than for the government. Many are concerned about the fallout of a strike, especially after AUPE workers were handed sanctions for their participation in the October wildcat strikes. Nurses in Alberta should know that if they take action, they would not be alone. In fact, they'd probably be the first domino to fall. The UCP have attacked everyone working in hospitals: doctors, janitors, laundry, cafeteria, and administration workers. That's not to mention the rest of the public sector and the working class as a whole. A nurses strike would not only garner the support of these groups, it would most likely inspire other walkouts, wildcats, and solidarity strikes. As we saw in October, the whole situation is resting on a knife's edge.
Strike to bring down Kenney!