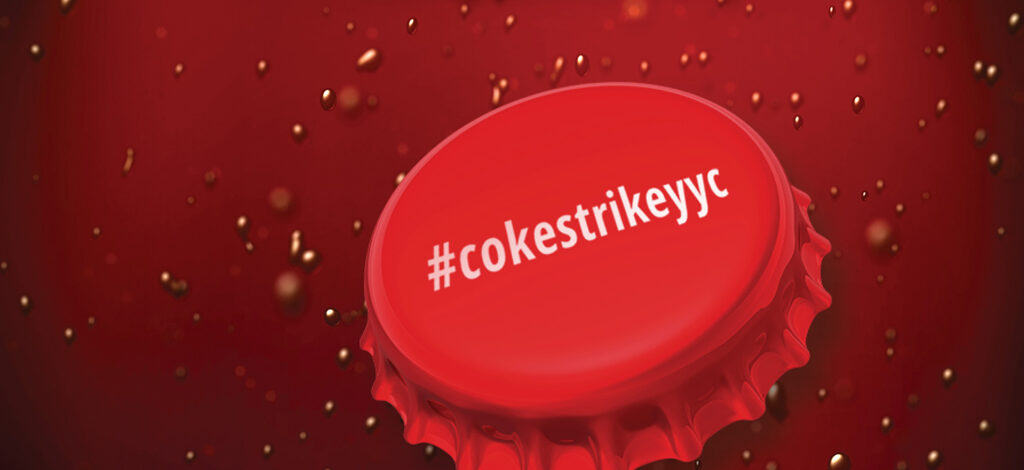 On Monday, March 15, 268 workers at the Coca-Cola Refreshments plant in northeast Calgary, Alberta, organized with Teamsters Local Union 987, went out on strike. This was announced in a release by Teamsters 987, whose members at the plant work in the warehouse, production, shipping, and equipment service.
Workers have lost job hours to third-party, non-union contractors employed by Coca-Cola. By reducing the hours of the regular employees and replacing them with workers who are not paid as much in wages, the company can cut costs. The workers, on the other hand, are left at home, waiting to be called in.
"We have employees, some that have had twelve years within this company," says Brock Penner, business agent for Teamsters 987, "But recently, they've been sitting at home, waiting for work."
Employees sought job security and protection from third-party outsourcing in negotiations with the company for a new collective agreement. The previous agreement expired on Oct. 1, 2020. Penner says that going on strike is a last resort for the workers. Teamsters 987 had not gone on strike since 2004 and had hoped to avoid one this time around. However, Coca-Cola's unwillingness to negotiate an agreement that included these measures prompted the workers to take action.
"Coca-Cola has chosen to walk away from the table, based on the fact that we were looking for job protection for these employees," Penner told CBC. "We wanted language in the collective agreement that clearly stated that their jobs would be protected today and tomorrow, for the life of this agreement. And the company said, no, that is too restrictive."

In a statement from Teamsters 987 Penner explained that "Coca-Cola employees simply want to do their jobs with some level of predictability from their employer."
For their part, Coca-Cola has attempted to shift blame onto the union. They claim disappointment with the union's decision to go on strike, saying in a statement sent to CBC that the company had offered long-term stability and wage increases to the employees, among other benefits, while still "meeting the needs of its business in extraordinary times." Clearly, Coca-Cola's statement bears no relation to the reality of their actions towards employees.
The company says that it is prepared to bargain with the union. But in the absence of a collective agreement that includes the protections against outsourcing that workers need to guarantee the well-being of themselves and their families, the workers are right to continue demanding job security. The workers and the union will have to hit the bosses where it hurts, shutting down the plant with a strong picket line, denying the bosses the ability to move and sell products, and making it impossible for scabs to come in and supplant them. These are proven methods for workers' victory in the class struggle.
It will also be essential that the rest of the labour movement heeds the workers' call for shows of solidarity. In that vein, members of the Health Sciences Association of Alberta (HSAA) union joined them on the picket line on Saturday, March 20.
It is unthinkable that companies would cut their employees' work hours, and therefore, their pay, in the middle of a pandemic. Workers risk their lives just by coming in to work each day for gradually diminishing returns, assuming they are given any hours at all.
"I can't sleep sometimes," says Coca-Cola worker Jaruy Jarek. "It's very stressful… We all want to work. We all want to know that tomorrow, we'll have a job."
Instead of facing what amounts to a pay cut, Coca-Cola workers should be receiving hazard pay on top of their regular wages. Unfortunately, as in countless cases throughout the pandemic, the safety and well-being of workers are not even close to a priority for the capitalists. Even at the cost of their workers' lives and well-being, the bosses will gladly continue hacking away at their wages and working conditions in any way they can, even if it is only to recoup a marginal amount of profit.
"This has been the history of Coke for a while," says HSAA president Mike Parker. "It is relentless and it is nothing more than greed."
Fightback stands in solidarity with striking workers at the Calgary Coca-Cola plant in the face of capitalist greed. Victory to the workers!