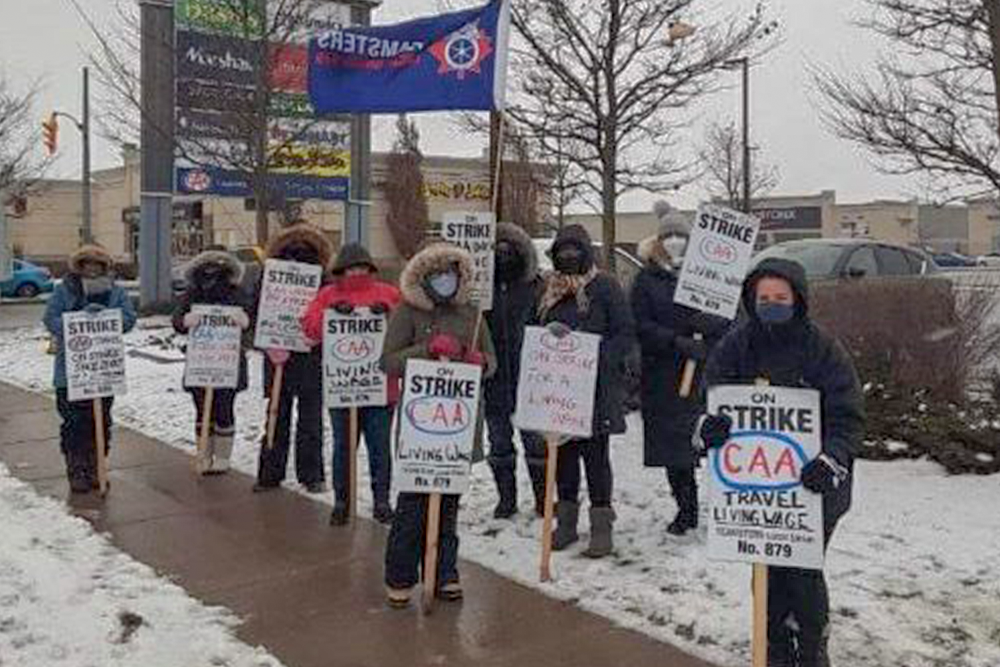 A strike involving workers at five Canadian Automobile Association (CAA) stores in southern Ontario is now well into its third month.
The work stoppage began on Oct. 29, when 18 CAA workers walked off the job in London, Kitchener, Waterloo, Guelph and Cambridge over two key issues: wages and workloads. Teamsters Local 879, which represents the workers, says its members at the CAA—a non-profit organization that offers roadside assistance, insurance, travel and other services—are overworked and underpaid. This workforce, comprised largely of women, has experienced drastically heavier workloads during the pandemic due to staffing shortages and are being asked to work at other stores and departments without compensation.
Prior to the strikes, the CAA tabled an insulting offer in the form of a three-year agreement that would have included no pay increases for workers in the first and second years and a one-per-cent increase in the third year. The latter would amount to a measly 17-cent raise per hour. Against a background of rampant inflation, the CAA's offer is an effective wage cut.
Yet even that offer is on top of $3/hour pay cut workers already took in January 2021—at the exact time the CAA was receiving the Canada Emergency Wage Subsidy (CEWS) from the federal government! Management's reason for the $3 pay cut is that CAA workers did not earn more than $75,000 in sales for the company during 2020. If workers generate more than $75,000 in sales, their base pay increases from $16 to $19 per hour. It is in this context that striking members of Teamsters 879 are demanding wages be uncoupled from sales through a $19 base wage in addition to commission.
The question of wages highlights the duplicity and greed not just of CAA management, but the entire Canadian capitalist class. After the onset of the COVID-19 pandemic led to a sharp reduction in travel, the CAA began receiving the CEWS, only to cut the wages of its workers. This pandemic profiteering is par for the course when it comes to bosses taking advantage of the federal wage subsidy, which as Fightback has explained is really a corporate subsidy by another name.
Furthermore, management did not replace workers who left. As cases of COVID-19 decreased in 2021 and travel gradually resumed, workloads on those who remained saw a major increase. The result has been not only poorer working conditions for staff, but worse service for customers. A Teamsters 879 flyer members were distributing on picket lines in December describes their current working conditions:
Since the stores are so short-staffed, we are doing the work of three or four people; trying desperately to keep up. This environment is making us worse at our jobs. Everyday we have to tell people who come into our store that they need an appointment, or the lines are so long that people will walk out without being seen. We are trying to maintain our members' trust, and CAA is making it next to impossible for us to do so.
The spread of the Omicron variant has now led governments to impose new travel restrictions, which will likely lead to another loss of revenue for the CAA.
As 2022 began, Teamsters Local 879 members remained on the picket lines, braving negative double-digit temperatures to send CAA a message: workers will not pay for the crisis and will fight for fair wages. This is a struggle shared by all workers as inflation erodes their purchasing power and increases the cost of living; therefore, the whole labour movement must support striking CAA workers in this fight.