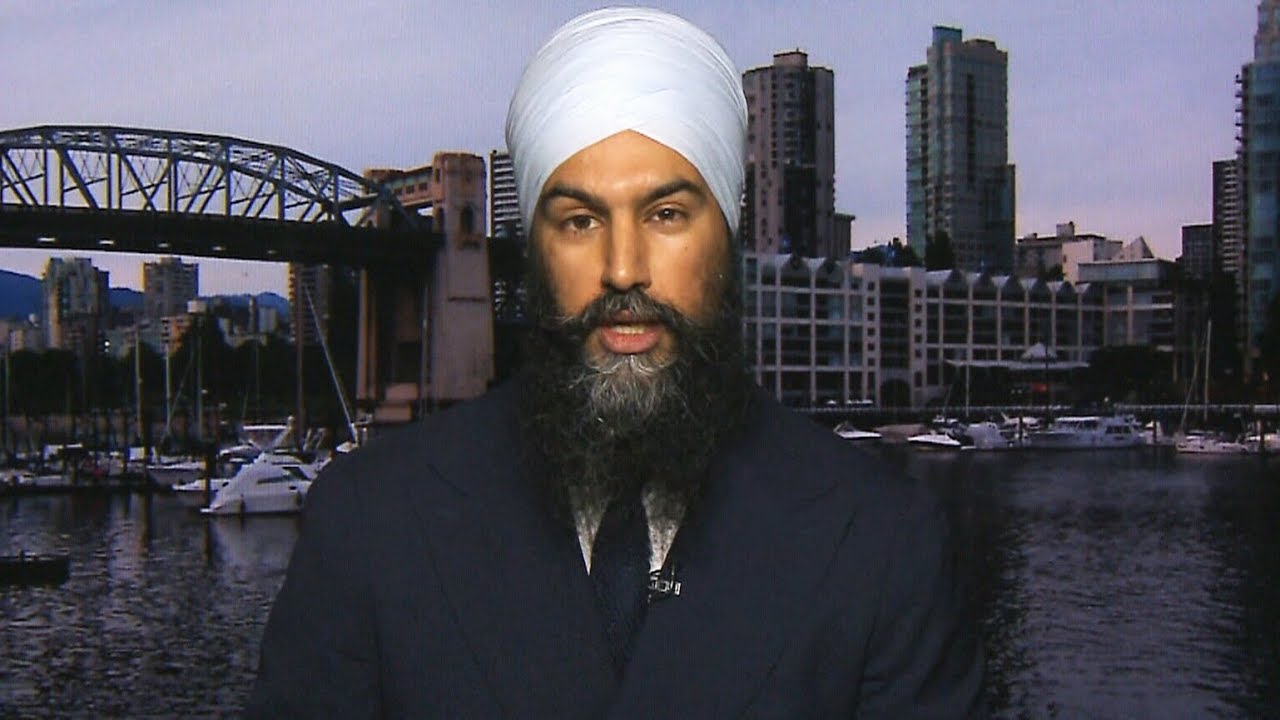 On Monday, Jagmeet Singh was elected MP for Burnaby South. The NDP leader probably breathed a sigh of relief. Since becoming party chief in October 2017, Singh has been without a seat in Parliament. Rumours suggested that numerous party members were hoping for Singh's defeat to justify replacing him before the election in October. After Monday's result, his position as leader is safe—at least for now.
As the victory was declared, Singh looked eager to celebrate the night with his supporters. However, that celebration was quickly brought to an end. Following his speech, reporters bombarded Singh with questions, each one having to do with the sagging fortunes of the NDP. After a few minutes, Singh made his return to reality.
Throughout Canada, Singh still faces an electorate which largely dislikes him. The party he leads has failed to resonate with working class voters, and is shedding both money and MPs at a worrying pace. Singh may have scored a big victory in Burnaby, but come October, he may have less reason to celebrate.
The sorry state of the NDP
Across Canada, the NDP is currently polling at a miserable 14 per cent. The figures are more grim when broken down by province. In Atlantic Canada, the NDP stands at 10.4 per cent, only slightly ahead of the Green Party at 8.6 per cent. In Quebec, the Bloc Quebecois now has double the support of the NDP. In BC, where the NDP has the greatest support, they are still 11 points behind the corrupt Liberals. From 2011 to 2015, the NDP regularly polled above 30 per cent, leading to their greatest electoral results in history. Those gains have now been erased. If an election were held today, estimates have the NDP losing the majority of its seats in Parliament, being reduced to as little as 3 seats.
The NDP's performance in Quebec is of particular concern. The party won 59 Quebec seats in the 2011 federal election, which led to the NDP becoming the Official Opposition in that year. Today, all but one of the NDP's seats in the province are considered vulnerable. In a recent by-election in Outremont, a Montreal riding previously held by the NDP, the party received only 28 per cent. In 2015, by comparison, the party received 44 per cent—a drop of 16 percentage points. Across the province, the party is polling at 10 per cent. One survey by Nanos revealed that Maxime Bernier, the leader of the fringe People's Party of Canada, has a higher approval rating than Singh in Quebec.
A recent poll by Angus Reid showed that 64% of Canadians had an unfavourable opinion of Jagmeet Singh. Net favorability for Singh stood at -28 per cent, compared with -20 per cent for Justin Trudeau, and -8 per cent for Andrew Scheer. Another poll revealed that Green Party leader Elizabeth May was more popular than Jagmeet Singh.
The NDP's finances are perhaps even more dismal. In 2018, the party raised $5.2 million—one of its worst results in years. The Conservatives and Liberals, by comparison, raised $24.3 million and $16.6 million, respectively. In the last three months of 2018, the NDP raised only slightly more than the Greens. But this is only the tip of the iceberg. In 2017, the NDP spent more money than it actually received. The party also ended the year with negative net assets, with loans in excess of $9 million.
Given these miserable figures, 11 of the NDP's 44 MPs have already signalled they will not be running in the October election. At 25 percent of caucus, this is already one of the highest rates of abandonment in NDP history. As time goes on, the list of dropouts is likely to increase.
The picture that emerges is one of a party that is broke, unpopular and struggling to stay afloat. A quick glance at the NDP's policy and approach explains why.
Which side are you on?
Singh chose the slogan "On your side" for his campaign in Burnaby South. However, on any given issue, it can often be difficult to tell which side that is. Leon Trotsky once said that, "A man who stands in the middle of the road gets hit by traffic going in both directions." Sadly, Singh has too often stood in the middle of the road since becoming leader of the NDP—and the traffic has been anything but forgiving.
In January, the RCMP attacked an Indigenous blockade in Northern BC that obstructed a planned gas pipeline. The action was met with widespread disgust and an outpouring of support for those behind the blockade. The NDP's stance, one might imagine, would be clear cut. Not so for Mr. Singh.
During an interview on CTV News, Singh was asked what he would do if he were Prime Minister. In response, Singh encouraged the need for "dialogue" between Indigenous protesters and the state. When asked directly if he would have sent the RCMP to remove the blockade, Singh replied that he would ensure, "law enforcement speaks with those who are raising concerns."
The response from Canadians was a collective "huh?" Does that mean the RCMP should be speaking to those they're beating and arresting? Nobody, not even Singh, knows the answer to that question.
The NDP's stance on Venezuela has elicited a similar response. In response to the ongoing coup attempt, Singh issued the following tweet:
Venezuelans are facing a humanitarian crisis and Canada can play a positive role by working with its regional partners to provide support.

No country should act unilaterally and we must all support a democratic Venezuela with free and fair elections.
Singh's tweet offers more questions than answers, such as: How can Canada play a positive role? Which regional partners? Which countries is he worried will take unilateral action? Does a democratic Venezuela mean support for Guaido or Maduro?
Even a crack team of cryptographers working around the clock would not be able to provide us with an answer. Singh hoped that by neither supporting or opposing the coup, he would please everyone. Instead, he has pleased nobody at all.
Singh's equivocation also applies to his platform (at least, the little bit that's been released). The NDP has committed to building 500,000 new units of affordable housing, while promising to prioritize "non-market housing." However, Singh proposes to do this by removing the general sales tax on developers, non-profit or not. Trudeau once made a similar promise, before abandoning it due its potential unpopularity.
As of now, Singh has yet to clarify how he will prioritize non-market housing. He has also yet to explain why corporate developers won't just pocket the tax cut while continuing to build luxury condos. Singh's hope is to satisfy both tenants and corporate developers. But once again, he has satisfied nobody at all.
Don't ride the fence
Poll after poll indicates that society has lurched sharply to the left. Most people have a developed a deep hatred for the political and business elite. The enormous support for left wing figures like Sanders in the United States and Corybn in Britain is evidence of this. In response, the NDP bureaucracy attempted to present a left-ish face with the election of Singh. On paper, the party platform is further to the left than it was under the former Liberal Thomas Mulcair.
However, to many people, this shift was little more than a bureaucratic calculation. They see Singh as trying to be Sanders but failing. They see the NDP as people in suits desperately trying to tap the anger in society, but coming off as hopelessly out of touch. Singh's statements appear non-genuine, and his awkward balancing act between a leftward moving society and the status quo only reinforces people's cynicism.
Canada is just over 7 months away from a federal election. In that time, the NDP has a choice: either to advocate fighting, socialist measures that gives an expression to the ferment in society, or to continue with business as usual. If nothing changes, Singh will certainly not be celebrating come October.
Neither will working people.