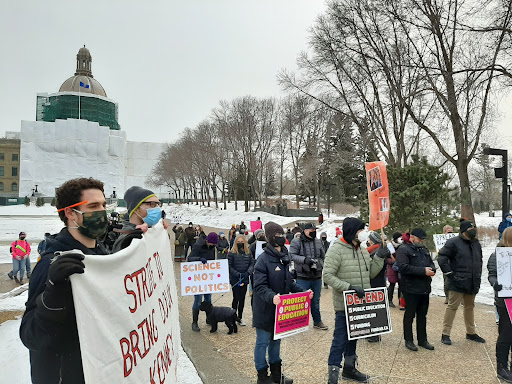 On Feb. 14, 2022, a student-led group, Students Against Kenney, led a walkout and subsequent rally at the Alberta Legislature.
Over 150 students, teachers, MLAs, and workers joined to protest the UCP's irresponsible and scientifically unsupported decision to lift mask mandates in schools which took effect on Feb. 14. Not only did Jason Kenney throw children under the bus with mere days of warning, the move was made without consultation of school staff, parents, students, or school boards, who were stripped of their powers to require masks on a divisional basis in the same announcement.
The UCP has stopped pretending to care about the health and safety of Albertans, and has instead bent to the whims of the so-called freedom convoy blocking the Coutts border in Southern Alberta. Why else would the UCP, just weeks ago, send thousands upon thousands of masks and rapid tests to Alberta schools only to turn on a dime and say they weren't required? Despite his best efforts to pander to those blocking the border crossing, Kenney's efforts haven't even panned out the way he so desperately hoped, and the border remains closed.
High school students called out Kenney's recklessness and demanded an approach that would see measures be lifted gradually when it is genuinely safe to do so. Organizers empathized with students tired of restrictions, but emphasized that many of these same students are not comfortable with such a drastic change. They called upon the UCP to actually speak with students who spend most of their waking hours in school about what they think should happen. This, however, may just be too much of a rational idea for Kenney to comprehend.
The grassroots rally planned with only days of notice shows that Albertans are looking for an outlet for their anger and disgust with the UCP. It is long past due for the labour movement at large and the NDP take the reins and channel this anger in a pointed, coordinated way. Something, we will remind them, that they have the influence, funding, and most importantly the responsibility to do.