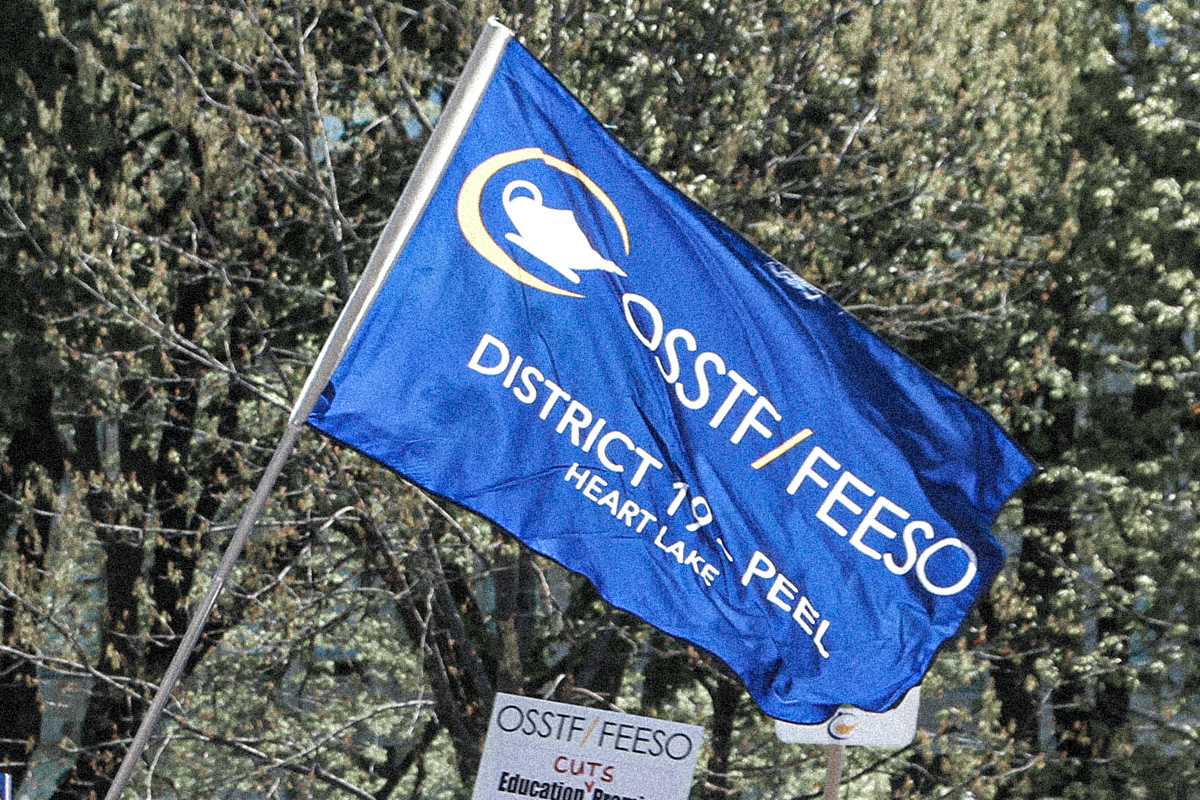 All four teachers' unions in Ontario have been without a contract since fall of 2022. The attempts to negotiate a new contract have failed, with Chris Goodsir, general secretary of the OSSTF, describing the governments' offers as "insulting". Given that the elementary teachers union (ETFO) was given an offer of a five per cent wage increase over four years, it's no wonder that these offers have been rejected!
On Aug. 25, the provincial executives of the Ontario Secondary School Teachers' Federation (OSSTF) voted on a "pathway to resolve outstanding bargaining issues." This "pathway" is to allow an arbitrator to decide on any part of the contract that isn't settled by Oct. 27. The decision of the arbitrator would then be automatically binding, with no opportunity for the members to decide if it is acceptable or not. If this proposed pathway is accepted by the membership, it would prevent any strike or other labour action. This is a recipe for another bad contract.
How we got here
Conditions for education workers have been seriously declining over recent years. Schools are having difficulty hiring enough staff and are forced to cut programs that children need. The lack of resources and staffing has led to a sharp rise in workplace violence and injuries for educational assistants. And to make matters worse, there has been a loss of real wages over the past three years! This is the result of ongoing attacks on education by the Ontario government.
For the past four years, public sector wages have been suppressed by Bill 124, which put a cap on wage increases of one per cent. With inflation at around two per cent at the time, this represented a drop in standard of living for over half a million workers. In addition to de facto pay cuts, the Ford government implemented a whole series of cuts to public services, including education. This led to the 4 main teachers' unions going on strike in 2019, to defend public education from these attacks.
Throughout the strikes, public support for the teachers remained high. The unions gradually increased activity, beginning with work to rule in the fall of 2019, before moving to rotating daily strikes. Finally, the strike reached a peak on Feb. 6, 2020, when all four unions struck for a day. However, the leadership decided to return to rotating strikes, and made no plans for an all-out strike, losing this momentum. With the leadership unwilling to escalate, the Ford government took advantage of this hesitancy and the confusion around the beginning of the pandemic to push through a contract that contained the one per cent wage increase of Bill 124. Now, for this upcoming contract, the government is pushing for more cuts to real wages, and for a four year contract. If this occurs, we would have seven years worth of declining wages!
During the lead-up to the expiration of that contract in fall of 2022, it was clear that more cuts were coming. Doug Ford's majority government gave him the confidence to propose major cuts to public services, as well as cuts to real wages. With the capitalist system in crisis, and the government at all levels heavily in debt, this became a fight that the province could not afford to lose. The main strategy of the government was to deal with each group of education workers separately, so that they could be defeated more easily.
The first group of education workers who entered the struggle were the education support staff, organized under CUPE. After decades of stagnant wages and harsher work conditions, these workers could not afford to accept further cuts. The education workers in OSSTF, ETFO, OECTA and AEFO were facing the same deteriorating working conditions, and had a great deal of sympathy for the CUPE workers. It would have greatly strengthened our struggle to strike in solidarity with the CUPE workers. Instead, the teachers' unions scandalously instructed their members to cross picket lines since they weren't "in a legal strike position."
These leaders refused to band together and instead chose to play along with the government's strategy to divide and conquer each union individually. This is not the way to win better conditions for education workers. So how do we win?
How the leadership is selling it
The provincial executives all insist that binding arbitration is the "best possible way to achieve a good deal". They assure us that having "another adult in the room" will ensure that we land a deal that meets our needs and reverses some of the cracks in the public school system. However, binding arbitration removes the workers' ability to decide whether a contract is fair. Not only that, but by removing our main leverage—the ability to strike—it results in bad contracts, as we've written about previously.
The OSSTF leadership is very proud to tell us that Bill Kaplan has been selected as the arbitrator, and that his recent ruling for the Ontario Nurses Association (ONA) bodes well for us. However, that contract included wage increases of 3.5 per cent for 2022 while inflation was 6.8 per cent, and three per cent for 2023 while inflation has been hovering between three and five per cent. This means that the arbitrated deal was an effective pay cut! The nurses certainly deserved better than this, as do all workers.
Unlike the CUPE workers, who bargained openly, the teacher unions have been very tight-lipped about the whole negotiation process, or even what demands they have raised. Scandalously, the OSSTF president Karen Littlewood recently stated at a virtual town hall that the union has been proposing binding arbitration since last fall! While our brothers and sisters in education were facing down the government to defend workers rights, our brave leaders were trying to give up those very rights voluntarily!
What do we do?
Instead of trying to find a way to make a deal at any cost, we need to fight for the deal we deserve. The best way forward is not to take a gamble on the sympathy of an arbitrator, but to rely on our own strength. The Ford government is incredibly unpopular and mired in scandal. Meanwhile, workers across the country are increasingly taking bold strike action, such as our brothers and sisters in CUPE, the PSAC workers or the BC dock workers. Despite the attempts by the government and media to turn public opinion against these strikes, they have been met with consistent public support.
We need to reject binding arbitration, and start preparing for a strike without wasting time. As workers, our greatest strength is our unity. Instead of abandoning the struggle and leaving the three other teachers' unions in a weaker position, we should show the other teachers that we have their back. When the OSSTF buckled, the other three agreed to conciliation, which, while not binding, is also not likely to result in gains for education workers. These manoeuvers only take the workers out of the fight, removing the main leverage that we have and leading to slowly worsening work conditions. In contrast to this, a united strike of the teachers would be far more powerful than in 2019, since the government will be much more hesitant to use back to work legislation, after Bill 28 backfired last fall.
Instead of using complicated manoeuvers to try to make a deal, all while keeping members in the dark, we need to have bold, public demands, such as a cost of living adjustment for workers, and rejecting mandatory e-learning and keeping maximum class sizes down. These demands would enthuse the union members, and also win over the general public, who have no interest in seeing public education further eroded. However, having public support is not the only thing needed to win. We need to use militant strike tactics, including hard picket lines and even defying back to work legislation, if needed. With bold action and decisive leadership, this is a battle we can win!
Vote no to binding arbitration!
Strike against cuts to education!
Fight for cost of living adjustment!