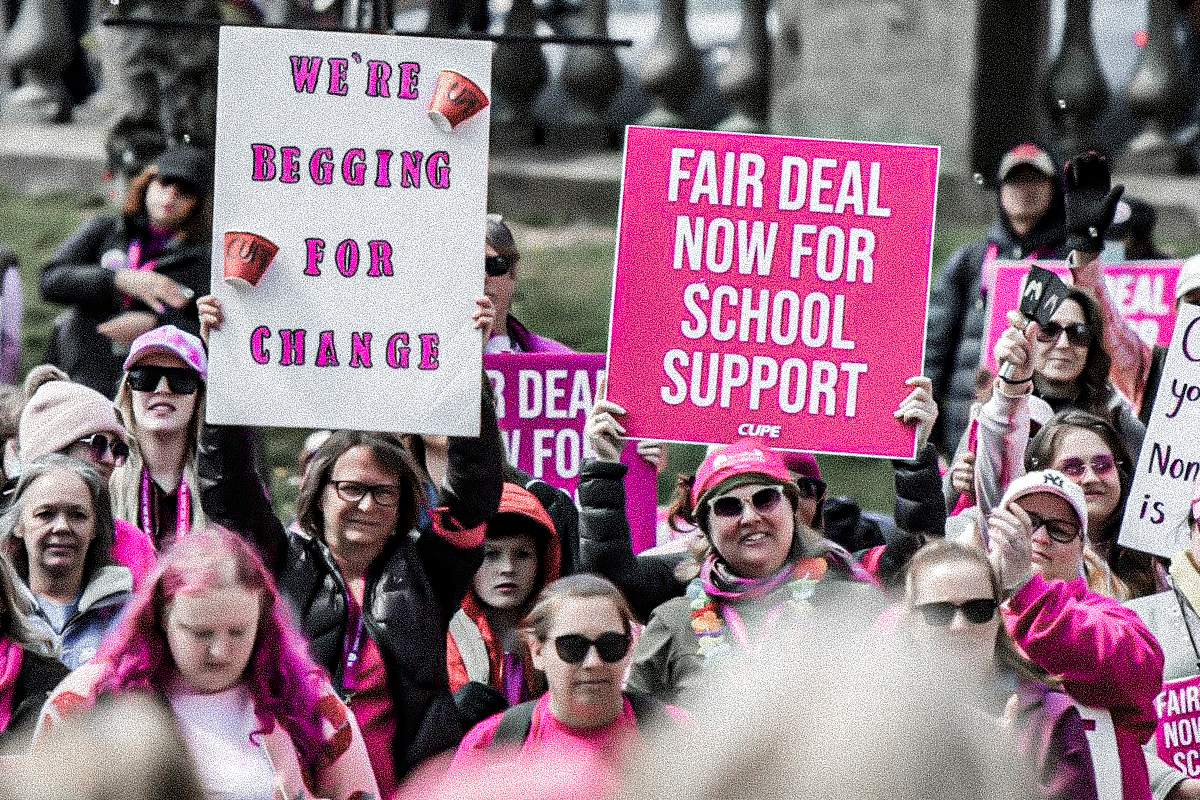 More than 1,800 Halifax-area school support staff, represented by CUPE 5047, have been on strike for better pay since May 10.
CUPE 5047, representing school support workers in the Halifax Regional Centre for Education (HRCE) including educational assistants, early childhood educators, library staff, and more, have been without a contract since 2020. These staff support some of the students most disadvantaged by the capitalist system, including African Nova Scotian students, Indigenous students, and students with disabilities. Salaries for these staff range from $29,932 to $52,132 per year—all below Halifax's cost of living.
On April 19, the CUPE 5047 leadership reached a tentative agreement with the HRCE. This agreement offered a 6.5 per cent wage increase over three years, well below inflation. Adding insult to injury, ahead of the vote, the HRCE held a recruitment fair for non-teaching casual staff—potentially to replace the union's members.
The employer tabled a tentative agreement that was far too low, and placed support workers in a situation where they could accept poverty wages or strike. This is no choice—the workers had no real option but to strike for better pay.
The tentative agreement was rejected by the membership on May 8, and CUPE 5047 workers took to the pickets on May 10.
The response to the strike has been strong, with parents voicing their support for educational support workers, and students at schools across the HRCE staging solidarity walkouts. Many children who need educational assistants have been told they have to stay home from school until the strike ends. Support workers are a vital part of the education system, which cannot fully function without them.
Despite support for the strike, Nova Scotia Premier Tim Houston has been mobilizing the rhetoric that CUPE 5047 workers are being unfair to families and taxpayers by demanding more. This is rich coming from a government that will increase funding for education by a mere six per cent while increasing debt servicing by 13 per cent over the next year. As we've explained elsewhere, the high cost of debt servicing is due to the historic and ongoing bailouts of the bosses with public funds, which is drying up money that could be spent on public services.
Over the past year, we have seen that the pressure of inflation is forcing workers to fight for better wages and conditions. Union leaders cannot limit their demands to what seems reasonable at the bargaining table. With that approach the workers will never be able to do more than keep their heads above water, as we saw with the below-inflation agreement that ended the recent PSAC federal workers strike. Instead, demands need to be guided by what workers need to have a decent life: cost-of-living-adjustments (COLA) and wage increases tied to inflation.
The broader labour movement must come out in support of the strike—in particular, other unionized workers in the HRCE. A victory for CUPE 5047 would not just be a victory for school support staff in the HRCE. It would set a precedent for school support staff across the province. A victory for CUPE 5047 with a contract that gives fair wages is a victory for all.
Solidarity with CUPE 5047!
Strike until victory!