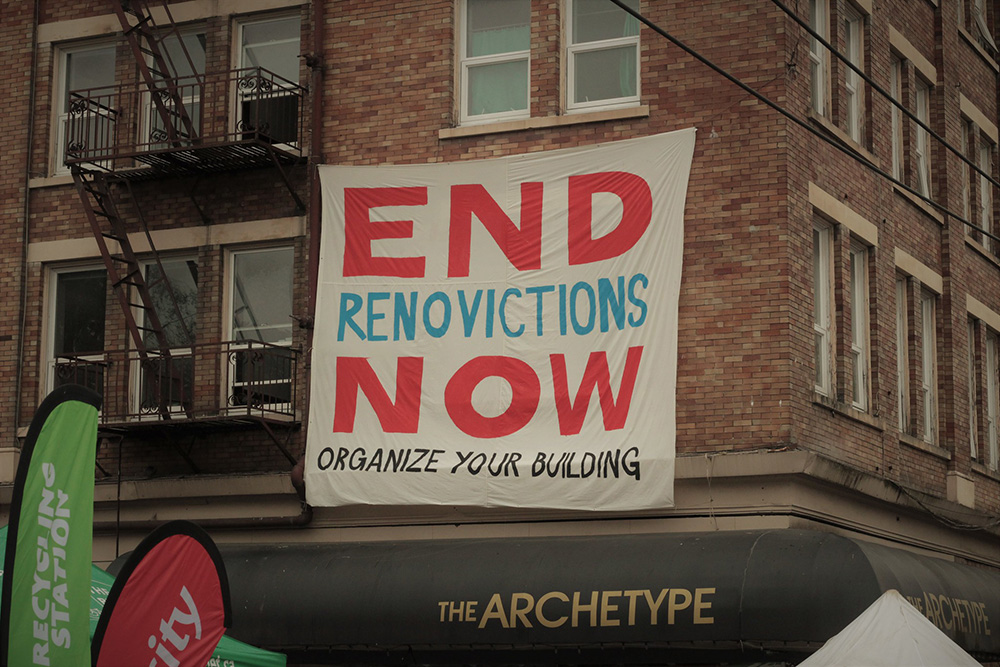 British Columbia has been in a housing crisis for years, with high rents, poor living conditions, homelessness and evictions being the norm. A recent study by the University of British Columbia analyzed data from 2013 to 2018 and found that evictions were the reason for 10.5 per cent of renters moving in B.C. This is 81 per cent higher than Toronto and 250 per cent higher than Montreal, making B.C. the eviction capital of Canada. Metro Vancouver is the epicentre of evictions, where a staggering 21 per cent of renters spend 50 per cent or more of their income on rent.
The study only looked at renters' most recent move, and the data excluded Indigenous people on reserves and individuals experiencing homelessness, so the true figures are likely much higher. This is especially the case as the eviction ban implemented during the COVID-19 pandemic was stopped in September 2020. One online poll of 2,289 B.C. residents conducted from May 16 to June 1, 2020 found one-third of renters lost 60 per cent or more of their income, with 31 per cent having one month or less in savings.
The study also underlined how being evicted can destroy lives. Those evicted encountered higher anxiety, stress, depression and an increased likelihood of experiencing violence and drug relapses. It can even create a downward spiral of housing quality leading to homelessness. Recent modeling suggests evictions led to an increased spread of COVID-19 as thousands of Canadians were evicted while cases reached record levels. Because this study was the first of its kind, and evictions are poorly reported, the numbers of evicted since the pandemic began have likely gotten worse.
How did we get here?
The pro-business, anti-worker Liberal Party—in power from 2001 to 2017—oversaw a period where renovictions (evictions where landlords make improvements and raise rent for new tenants), speculation and money laundering in real estate helped make B.C. one of the most unaffordable places to live in North America. Speculative bubbles (where a commodity is feverishly bought with the aim of selling at a profit, attracting more and more investors) are the cornerstone of the B.C. housing market. Deregulation in this sector set the stage for skyrocketing prices in the past two decades. Last year the average home price was $947,707—a 20.4 per cent increase from $787,032 in March 2020. Recently a dirt driveway in Vancouver was posted for $289,000.
When the B.C. NDP—in power since 2017—introduced a rent freeze in 2019, then Liberal leader Andrew Wilkinson said the NDP was "pandering to renters" when it's "landlords" who are really struggling. Wilkinson said when he was a renter, "It was challenging at times, but it was fun … It's kind of a wacky time of life, but it can be really enjoyable. Being a renter is a fact of life. it's a rite of passage." He added, "Nowadays, it'll be tough to find anything to move to because the landlords are not interested anymore." These statements are completely detached from reality, as most renters aren't single university students—they're adults, with jobs, and many with children. Only seven per cent of Vancouver families can afford to buy a home. Nearly half of renters in the city are aged between 25–34, with 19 per cent aged 35–44. Those aged 45–54 face the highest rate of evictions. The average one-bedroom rent in Vancouver in 1990, when Wilkinson likely rented, was $566. Last year it was $1,415.
The B.C. NDP has promised to "make your life more affordable," but has largely failed to deliver on this promise. While they did implement a rent freeze which has helped renters from sliding deeper into dire straits, the party scrapped it at the end of 2021, allowing landlords to raise rent by 1.5 per cent in 2022. They have promised to fund the creation of 3,000 units of non-profit housing a year, but it is estimated the province needs 10,000 per year to keep up with demand. Even the $400 annual rent rebate the NDP promised in the 2017 election has not materialized. A recent survey stated almost three in five of surveyed British Columbians (59 per cent) say it is harder now for them to make ends meet than in 2017. Nearly half (49 per cent) say it is now more difficult to find a job than it was four years ago, and 52 per cent say the same thing about paying for post-secondary education. The promises of affordability have been little more than hot air for many.
This is because the Horgan NDP continues to play by the rules of capitalism, which means not challenging the real power of the real estate companies, investors, developers, and landlords. Evictions, homelessness, and rising costs are all features of capitalism in crisis. This gives rise to situations where, in Vancouver, there were nearly 10 empty homes per homeless person last year. This system relies on making profit in every sphere of life, and housing is no exception. It is simply not profitable for everyone to be housed.
More needs to be done beyond imposing rent freezes, easily avoidable vacancy taxes and other weak reforms. The fight for guaranteed decent housing for all is the fight to end for-profit housing. John Horgan and the BC NDP leadership have demonstrated on multiple occasions that when push comes to shove, they side with the capitalists. Whether it be with the logging companies in Fairy Creek, the owners of Coastal GasLink pipeline over Wet'suwet'en land defenders, or the landlords and developers over tenants, the Horgan leadership, willingly or not, has been betraying the movement.
The labour movement and the ranks of the NDP must fight for a socialist policy on housing. This means seizing and expropriating housing units owned by large landowners and speculators who keep thousands of homes empty while while there are people sleeping on the streets; the nationalization of empty units used for speculation, extending the eviction ban, tying rent to ten per cent of income, and building new socialized housing as needed. If the Horgan leadership is a barrier to this, they need to be replaced with people who are not afraid of attacking the capitalist developers and landlords who are sucking the blood of working class renters. This can only be done by breaking with the system and battling the capitalists head-on instead of trying to appease both sides.