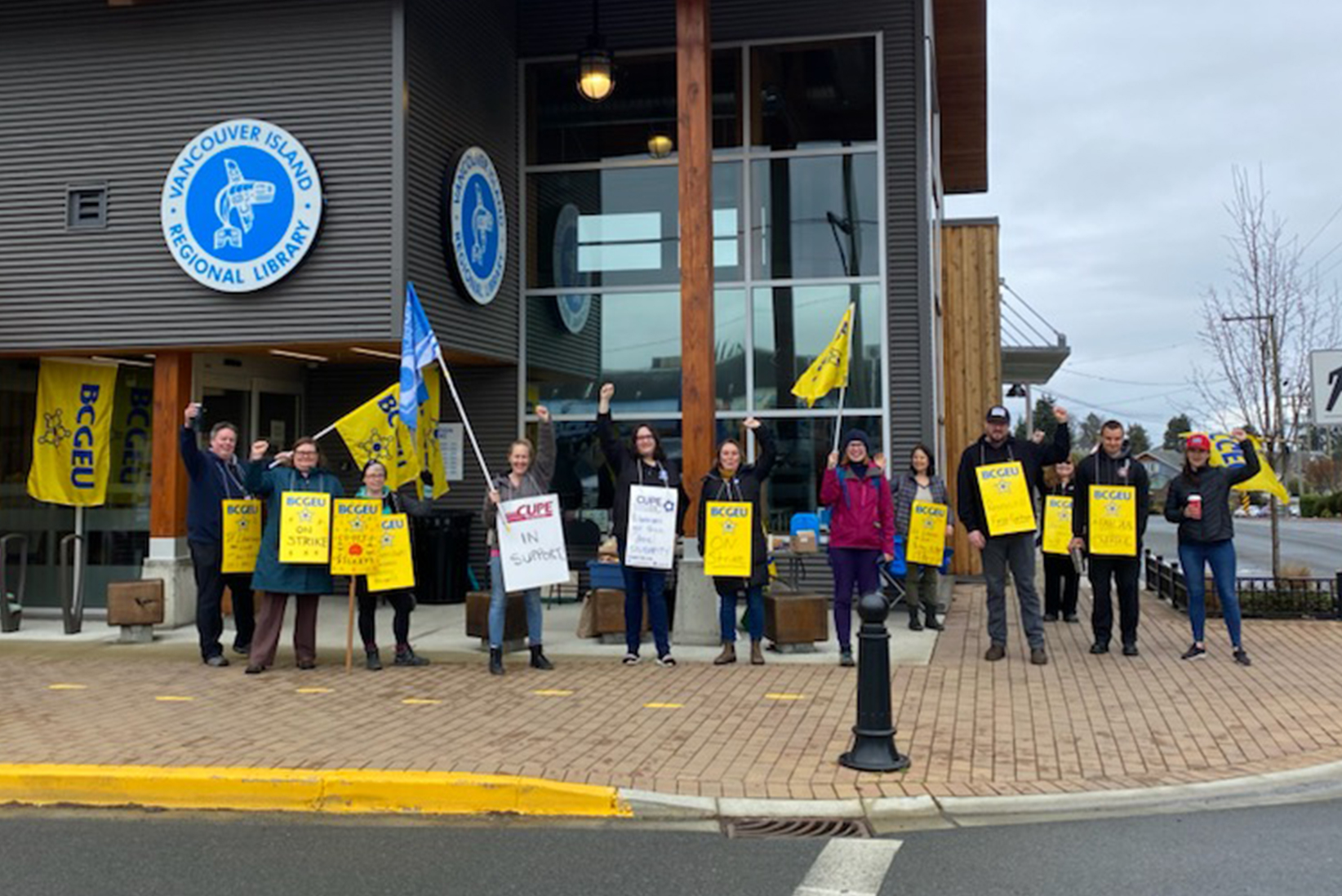 The picket signs at libraries across Vancouver Island say, "If librarians are loud, you know it's bad". These librarians are members of the British Columbia Government Employees Union Local 702 (BCGEU-702). They announced job action on March 3 with the word "strike" no longer shushed or simply whispered.
The librarians have been working with no contract since 2020. The previous contract was signed back in early 2016 when living costs were much lower than now. Bargaining on a new contract only began in September of 2021, but negotiations came to a halt in February of this year when management refused to address cost-of-living increases and important job safety issues. In its press release, BCGEU president Stephany Smith said, "Librarians don't want job action. What they want is a fair collective agreement that recognizes the value of their work to the communities they serve, protects their wages from sky-rocketing inflation and gives them the safe, healthy workplace they deserve." Instead of a fair collective agreement, Smith said, what workers have "gotten from their employer so far is unnecessary delays and proposals that can only be described as disrespectful. It's unacceptable."
Vancouver Island Regional Library (VIRL) librarians' salaries range from the low twenties to the low thirties. With average prices for a house in the island city of Nanaimo over a million dollars, even the top pay range puts home ownership out of reach for library workers on Vancouver Island. Rental prices are also at crisis levels and rising along with the price of everyday necessities. It doesn't take a rocket scientist to understand what brought librarians to the point of leaving their quiet posts to demand better pay, improved safety, and better support in lieu of changing job conditions.
On March 9, BCGEU librarians began rotating pickets at the Cowichan Valley library branch in Duncan. To give management a chance to respond, librarians paused the rotating strike action the next day, but with no positive reply, picketing resumed at the downtown Nanaimo branch on March 11. Further job actions are underway by the union in its effort to press management to bargain. Buoyed by the response from library patrons, striking library workers at the Cowichan Valley branch said they feel confident the public understands what the job action is about.
For now, VIRL management does not seem willing to budge. In a news release, VIRL said, "Local 702 has counter offered with wage increases the union had previously identified it would accept." The statement went on to express its "disappointment", claiming the workers "seem to be moving away from the opportunity to sign an agreement". This position of "disappointment" by VIRL seems disingenuous considering management's delay of the bargaining process long after the previous contract ended.
When that deal was signed in 2016, inflation was only 1.4 per cent and stayed close to that rate through the end of the librarian's contract in 2020. Since then, inflation ramped up to an annual rate of 5.7 per cent in February 2022. That was the same month management refused to address the issue in contract negotiations. It makes perfect sense that when faced with delays in forming a new contract, the librarians would have to re-evaluate their previous salary demands. Inflationary prices at gas pumps and grocery stores effectively amount to a serious wage cut. What made sense for librarians when they first tried to get management to the bargaining table now makes little sense, as capitalism's escalating inflationary crisis hammers away at workers' buying power.
The cost-of-living issues librarians face are familiar to many workers, but the problems go way beyond inadequate wages. Libraries on Vancouver Island, like libraries elsewhere, are on the front lines of serious social problems that impact working conditions.
In a letter to the trustees of the public library system, the workers said they became librarians because they care about communities and believe in public access to information, literacy, and other services libraries provide to people in our towns and cities. The letter pointed out that librarians have been thrust into roles that go way beyond checking out picture books for small children and helping students or others access resources for projects: "We also find ourselves on the frontlines, dealing with the impacts of poverty, addiction, climate and mental health crises." Social conditions in Vancouver Island communities reflect some of the worst in decades. The librarians said, "We struggle to manage in-branch overdose crises, violence, and abuse with ever-increasing demands to fill gaps in the social safety net." These conditions were bad before, the librarians said, but "Now we are dealing with all these issues during a global pandemic."
It's possible that VIRL management, given its history of slowly walking the bargaining process, will carry on with its strategy. Because of this, library patrons will be impacted, but polls show that public support for unions is growing.
Because a strike of librarians doesn't harm the profits of capitalists, rank-and-file unionists in British Columbia should advocate to build a movement to support the librarians across the province.
It may be a popular trope, but librarians are often thought of as quiet helpers only intent on staying in the background. Myth or not, the librarian members of BCGEU-702 are confronting their employers with the word "Strike!" and are determined to continue. Vancouver Island librarians are on the front lines of the class struggle today, and they refuse to be shushed.