Last week, the Ontario Progressive Conservative government revealed their highly anticipated Guide to Reopening Plan 2021-22 for elementary and high schools. After managing through the longest school closures in the country, students, families and teachers are justifiably desperate for a return to in-person learning. Unfortunately, the Ford government is exploiting people's desire for a reopening to push through a dangerously irresponsible back-to-school plan that could push Ontario into a fourth wave of COVID-19.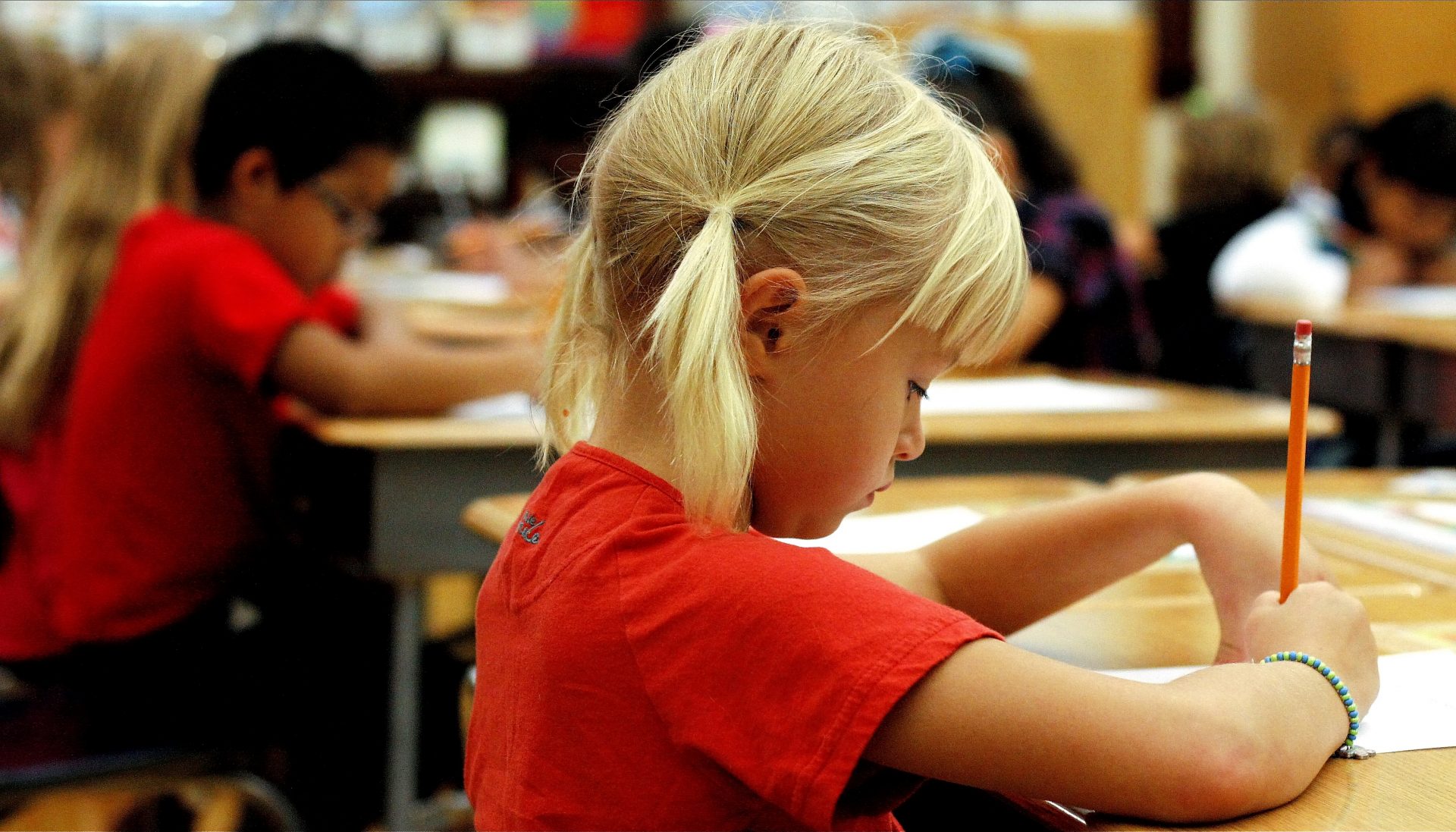 While Premier Doug Ford seems to have learned nothing from the previous three waves that were fueled by equally inadequate school plans, we should not forget the public outrage and direct action from communities and essential workers which forced the government to reduce class sizes and implement health and safety measures. The Ford government cannot be trusted to prevent a fourth wave. Teachers, parents and students must take direct control of school reopening plans.
Planning for failure
The "guidelines" provided by the government may be better summarized by what is missing. The "non-plan", as the teacher's unions have dubbed it, contains no rapid testing or symptom screening at school entrances and does not mandate vaccinations for teaching staff. Classroom sizes will not be reduced. There is no additional funding for hiring more teachers, school nurses or cleaning staff. Supply of personal protective equipment will remain the same as offered during the previous waves, despite the fact that many schools complained about a lack of adequate supplies during the first, second and third waves.
While schools have been warned to prepare for closures in case of an outbreak, there is no clarity on what threshold will require a closure. Education Minister Stephen Lecce has boasted about the government's $25 million investment into ventilation. However, this is far too little compared to the estimated $3 billion needed to fix or improve ventilation systems, and to hire enough teachers and cleaners to maintain proper health protocols for distancing and hygiene. The $25 million means even less considering that the Ford government cut education spending by $800 million this year alone.
In fact, the Conservatives' 2021 budget will leave Ontario schools $12 billion short over the next decade for covering bare essentials. In addition to the lack of funding is the lack of time to ensure proper ventilation and health protocols. Jeff Sorensen, president of the Hamilton-Wentworth Elementary Teachers' Local, responded to Lecce's funding announcement by warning that "when I was in the classroom—and we were in a fairly new school—our HVAC systems were horrible, always breaking down. We had a joke that our air conditioning broke down every May and was fixed every October. So there's not a lot of confidence there that [the] ventilation systems, air quality will be as good as it's perhaps suggested it's going to be."
The Ford government's reopening plan creates more questions than it answers. Will schools cancel in-person classes if a student tests positive for COVID-19? Does everyone on the child's school bus go into quarantine too? And what about asymptomatic children; how will the spread be controlled from them without rapid testing at school entrances? The government's plan, in lieu of increased funding and safety measures, suggests the use of cohorts and a complicated system of rules. In the place of systematic testing and screening, teachers, parents and students are required to do their own self-screening before school.
Faced with this situation, teachers and families across the province are expressing serious concern over the lack of adequate planning for reopening the schools. In an open letter sent to Ford last week, the Registered Nurses' Association of Ontario called for mandatory vaccination, smaller class sizes, improved ventilation and funding for additional public health nurses in the schools.
When asked about how breakouts will be contained, Chief Medical Officer of Health Dr. Kieran Moore stated, "I really don't see our schools closing." Instead of serious measures to maintain health and safety to protect teachers and students, the goal of the government is to "normalize COVID-19" and accept the fact that teachers, students and their families will contract the virus. This approach will surely pave the way for a fourth wave.
Wave after wave
The spread of COVID-19 in schools was one of the main factors driving the second and third waves. More than 4,800 Ontario schools had to close due to COVID-19 cases from September 2020 to June 2021, with 11,462 students contracting the virus. Ontario also had the longest interruption to in-person classes in Canada during the 2020-21 school year. Often, schools had to close because there were too few teachers left to teach after many had contracted the virus and went into self isolation.
This was the direct result of the inadequate planning and funds to the school system by the Ford government. During the third wave earlier this year, Ford refused to spend money on smaller class sizes as recommended by health officials and school boards. Schools were left digging into their reserve funding to reduce class sizes but unsurprisingly, the majority of classes were overfilling with 25 to 30 students. After rejecting a request from the Toronto school board to hire 300 new teachers, which would have cost $20 million, Ford spent $25 million to hire 200 cops. The Conservatives spent an additional $3 million on police cameras and even managed to find a spare $275 million for tax cuts to the wealthy. It was only under mass public pressure that the entire school system closed down in April 2021.
The current school reopening plan is fundamentally the same as the previous plans. This is a recipe for disaster as COVID-19 cases continue to rise in Ontario and public health officials are warning about a potential fourth wave with the more contagious delta variant dominating the spread. Currently, the delta variant makes up 87.2 per cent of all cases in Ontario. The data is showing that people infected with the Delta variant may have a viral load 1,000 times higher, making them more contagious and for a longer period of time compared to the original strain.
Health officials are also emphasizing the threat to children under 12 in particular as they are not eligible for vaccination and there is already a growing number of cases in youth around the world. The American Academy of Pediatrics has seen over 4 million children under 12 contract the virus. The combination of borders reopening, interprovincial travel and a layer of unvaccinated Canadians will create a dangerous situation for students that will only be exacerbated by Ford's reopening plan.
How to avoid disaster
There is growing evidence of the negative impact of school closures on children and their families. During the shift to online learning this year, 70 per cent of teaching staff across the country said they believed some students completely stopped attending online classes. Public health officials have warned of "a serious, sustained negative impact on the mental health of Ontario children, youth and their families." A parent and teacher in Ottawa put it well when she said: "I desperately want schools to be open for myself, my own family, my kids and every other parent and student in Ontario, but I do not want to see kids getting seriously ill."
While reopening comes with risks, the real question is if everything is being done to mitigate the risks. We can conclusively say that Ford's reopening plan does next to nothing to mitigate risks. With no clarity on school closure thresholds or adequate paid sick leave, schools will be left to fend for themselves with limited funds and parents will struggle to take care of children in quarantine. To avoid another health disaster and lockdown, there must be a plan in place to deal with a potential outbreak. School staff, parents and health officials are the best equipped to develop such a plan and carry it out.
During the previous waves, it was teachers and families who fought against Ford's mismanaged reopenings and forced unsafe schools to close. A great example is Thorncliffe Park Public School, which had one of the highest test positivity rates in Toronto. Outrage from the community ultimately pressured the government to test the entire school population, including those without symptoms. This testing revealed that 18 students and one teacher at Thorncliffe Park Public School were infected. It was only after a rank-and-file revolt of the workers which emboldened the community that the government had to close the school. Thorncliffe set an example that was followed by neighbouring schools where mass testing was conducted and many were forced to close. The teachers and community of Thorncliffe showed courage in standing up for the health and safety of working class families. Today, it is imperative that the trade union leadership of the teachers and health-care workers prepare to take similar action to prevent another wave.
The shortsightedness and irrationality of a profit-driven system is showing itself to be incapable of planning ahead of disaster. Failing to fund safe schools now will only prove more costly in the long term as it could trigger a fourth wave that would lead to another lockdown. As COVID-19 cases are on the rise and with the delta variant dominating, the working class cannot allow this penny-pinching capitalist government to unleash another wave and subsequent lockdown.
The Ford government has consistently refused to listen to health officials, teachers and parents. The trade union leadership must learn the lessons of Thorncliffe and mobilize a mass movement of teachers, education staff and the broader community against this disastrous reopening plan which will only create a fourth wave. Such a movement must fight for reduced class sizes, massive investment in education, extra staff, paid sick days, onsite testing and contact tracing as the only way to safely open our schools. Only a mass movement of working class people can stop this disaster in its tracks.