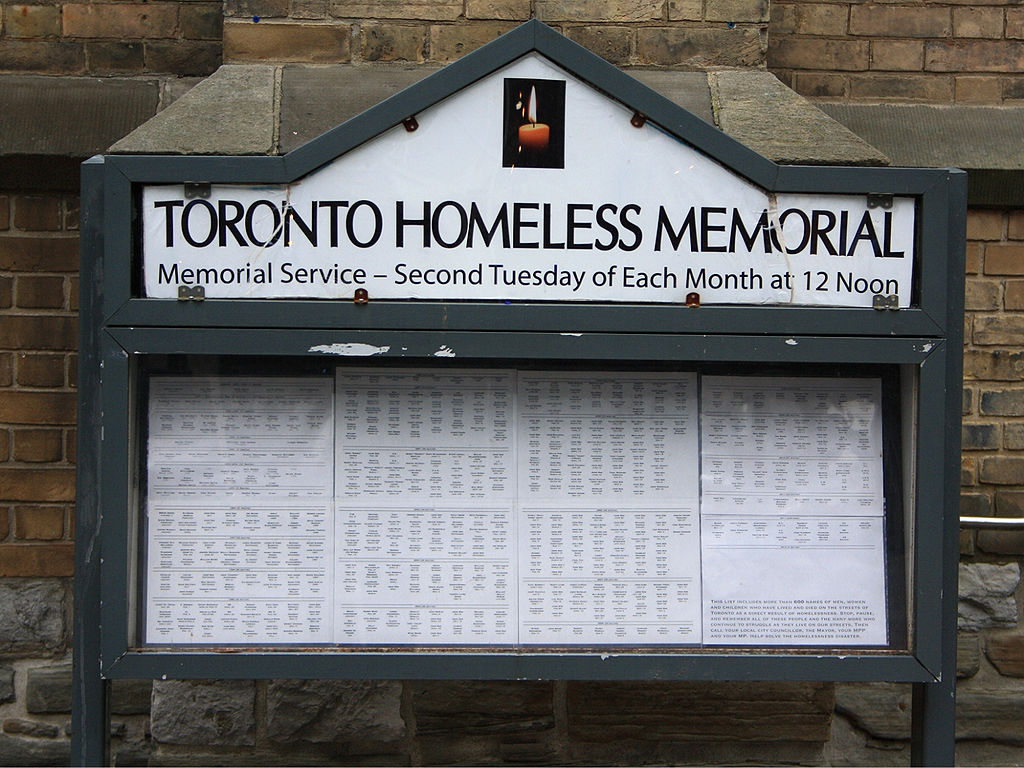 In 2021, at least 125 homeless people died in Toronto. According to official numbers reported by the City of Toronto, there were 126 deaths within the city's shelter system. However, housing advocates believe that the true number is closer to 180. This is the highest number of deaths of homeless individuals ever recorded in Toronto, and a significant increase from 75 recorded deaths in 2020.
Nearly half of homeless deaths were caused by drug poisoning related to the opioid crisis. Other causes of death include hypothermia, homicide, chronic illness, and suicide. These deaths occurred within the context of a city with a collapsing shelter system, city forces destroying encampments and violently displacing the homeless, and a nation wide housing crisis.
Housing workers and advocates say that the shelter system in Toronto is crumbling, and that the city's response to homelessness has only gotten worse during the pandemic. Shelters are often at capacity, leaving people with nowhere to go. Additionally, shelters have been experiencing staffing shortages due to poor work conditions and low pay. These shortages are resulting in unsafe conditions and lack of support for service users.
This has had deadly consequences. In December, a shelter resident, who was known to be at a high risk for overdose, died after not receiving a wellness check for over nine hours. Additionally, shelters have incredibly low rates of success in terms of housing clients. In November of 2021, over 9000 individuals accessed shelter space. Of those 9000, only 250 were moved to permanent housing. On top of this, lengthy referral processes and bureaucratic delays leave people unable to access other community resources such as addiction treatment programs.
Encampments
Many people experiencing homelessness are choosing not to access emergency shelters. Shelters can be very crowded, which is a health and safety risk during the pandemic. At the time of writing, 27 shelters in Toronto have declared COVID-19 outbreaks. There are many other reasons that individuals choose not to stay in shelters including drug and alcohol abstinence policies, not allowing pets, forcing couples and families to separate, and pest issues. Additionally, individuals who struggle with severe mental health and addiction struggles are often service restricted from shelters, meaning they cannot access them even if they want to. This has resulted in the increasing number of encampments popping up across the city.
Encampments provide community and stability to people experiencing homelessness. Not having to move every day means that residents can build up more protection from the elements. There is also security in having other people around, and it is easier for street outreach workers to find and provide support to people experiencing homelessness in encampments. It can be very difficult to locate individuals on the street who are constantly being moved. Encampments are certainly not solutions to homelessness, but in the current housing crisis they are a means of survival for the most vulnerable in society.
Despite clear evidence that shelters are not accessible to all and that encampments are a necessity for survival, the city of Toronto continues to spend enormous amounts of energy destroying encampments and criminalizing the homeless. In September we reported that the city spent $2 million to violently evict encampment residents at Trinity Bellwoods Park, Alexandra Park, and Lamport stadium. On top of this, the city of Toronto has expended time and resources fighting housing advocates in court and blocking them from being able to assist their houseless neighbours. For example, early in 2021 the city served a local carpenter with an injunction ordering him to stop making and re-locating tiny homes which he had built to shelter the houseless. Those shelters were then taken or destroyed by city workers. This is the logic of the capitalist system. The ruling class would rather funnel money and resources into protecting private property and destroying shelters, than to provide humans with basic needs like housing.
This is because homelessness is the inevitable by-product of capitalism. Most workers are at risk of becoming homeless at the whim of their bosses or the ruling class. The capitalist system requires a mass reserve of unemployed workers to utilize as a threat to get workers to submit to low wages and poor working conditions. And by making the necessity of life that is housing into a commodity, capitalism utilizes the threat of homelessness to drive up rent prices. Therefore, the system will never willingly end unemployment and homelessness. 
The tragic deaths of over 120 homeless people in Toronto could have been prevented. Had these individuals had access to safe and stable housing, quality health care including harm reduction and addiction treatment, proper nutrition, and responsive community resources, most of these deaths would not have occurred. But capitalism will never provide these necessities for everyone because the system relies on poor living conditions for workers and constantly increasing profit margins.
A socialist planned economy, in which the workers own and control the wealth of society and use it to fulfil the needs of all people, would end homelessness. There are over 66,000 empty homes in Toronto—more than enough to house all those experiencing homelessness. Socialism would ensure those in need of housing were provided with one of those empty homes, as well as building quality social housing. Only a socialist planned economy can end poverty and homelessness, and countless deaths can be prevented.