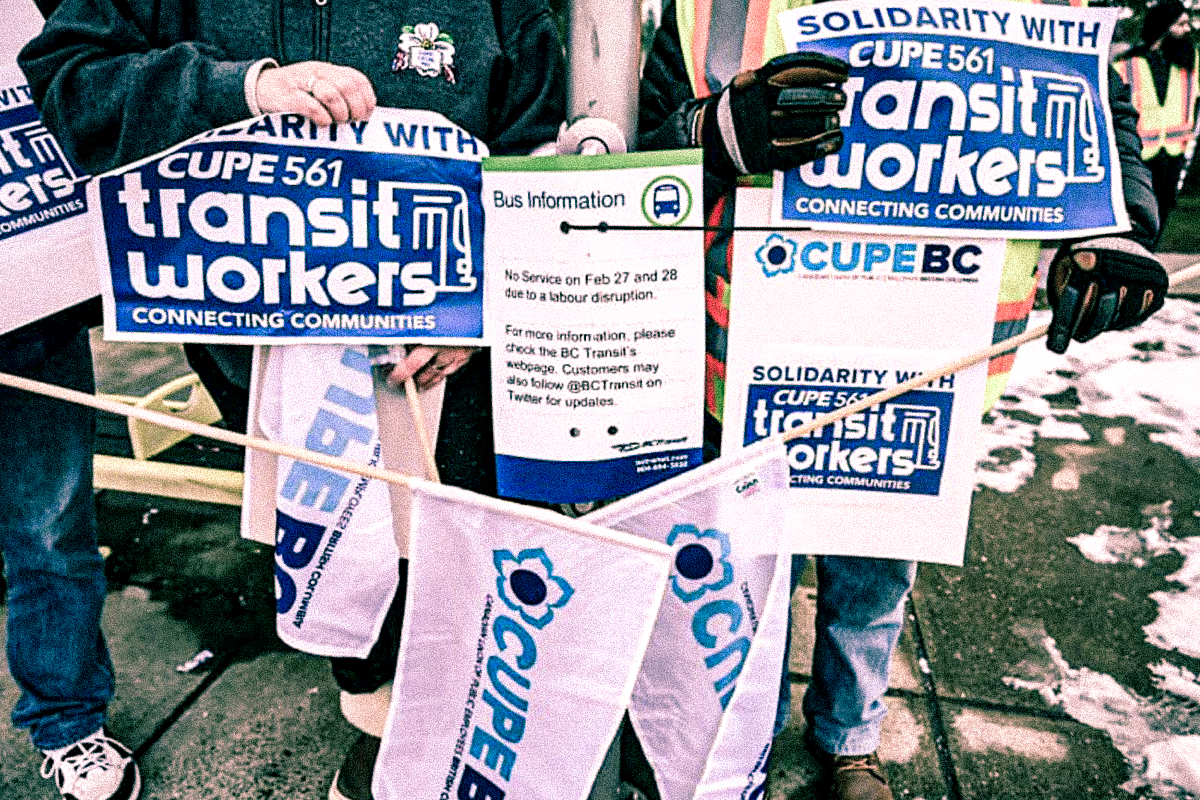 Transit workers of CUPE 561 in B.C.'s Fraser Valley area have gone on strike after more than two years without a contract. While they may drive the same buses and wear the same uniforms, workers in the Fraser Valley are paid appallingly little compared to those in other areas throughout B.C. Bus operators in Abbotsford, Chilliwack, Hope, and Mission are paid 32 per cent less than other transit operators in the region and lack a pension plan.
"We're trying to make everybody aware—the employer and the community—that just because it says B.C. Transit on those buses does not mean that everybody gets paid the same," said Jane Gibbons, president of CUPE 561.
This disparity exists because B.C Transit contracts out service in the Fraser Valley to First Transit, an Ohio-based company that operates public transit in over 300 locations across the world, including four Canadian provinces. This for-profit company has taken advantage of the pandemic to avoid negotiating a new contract with its workers. The Fraser Valley Transit workers have been without a contract since March 31, 2020.
First Transit drivers must live off wages as much as $10 an hour less than other operators in B.C. In addition, they face long hours of standby time, where they make less than $3 an hour and are expected to work at a moment's notice. "We can't afford to spend more time with family," said operator Kheireddine Boubrin. "We spend more time behind the wheel."
In the face of rapid inflation and an unprecedented cost-of-living crisis, operators working for First Transit are finding it increasingly difficult to survive. "Our members and their families have been pushed to the limit, and they need a lift," Gibbons said. Andy, a bus driver with CUPE 561, expressed his frustration: "We are all feeling the same; we're under stress. Everything has gone up in life, you know, and our wages are still rock bottom."
Under these conditions it should not be surprising that discontent among First Transit workers has been boiling under the surface. On August 28, 2022, operators with ATU Local 1722, which runs service in the Okanagan region, voted 97 per cent in favour during a strike vote, after First Transit offered an insulting 1.5 per cent wage increase and refused to engage in further negotiations. In September, workers began job action by refusing to collect fares, work overtime, or wear their uniforms. With no response from the company, the dispute escalated to a strike on Oct. 5, which ended the next day with First Transit and the union agreeing to binding arbitration.
On Dec 19, CUPE 561 operators followed the lead of their coworkers from Kelowna, and voted 98 per cent in favour of a strike if necessary, to which First Transit employed its trusted strategy of simply ignoring the workers. The company and the union sat down for three days of negotiations on Jan 17 which came to no results. On Feb 2 at 3 p.m., workers began a fare strike. Once again faced with stony silence from the company, they escalated with a two-day strike on Feb 27. "We started with not collecting fares for the month of February. We had no response from the employer. So, we had to escalate," said Gibbons. This escalation was inaugurated with a rally at Abbotsford City Hall, where almost 100 workers and supporters gathered with signs reading "No pensions no service," and "We need a lift."
The strike ended on March 1, with workers still refusing to collect fares. A new round of negotiations began the following day. However, with no deal in sight, workers are set to begin another, three-day strike on March 9. If no deal is reached by March 20, CUPE 561 operators are scheduled to go on a full walkout. "Unless First Transit is prepared to deal with these issues, transit users should be prepared to go without service for a long period of time," said Gibbons.
The conditions which transit workers are forced to endure is an inevitable consequence of public transit operated on a capitalist basis. Operators are forced to work long hours for low pay, and transit users are forced to tolerate underfunded infrastructure and high fares. The workers of CUPE 561 must escalate their struggle to win the "lift" they deserve, and the sooner, the better. It's clear that the employer, First Transit, does not want to negotiate, but a full stoppage would certainly get their attention, as it did in Kelowna. CUPE 561 should also enjoy the full support of the labour movement, as an injury to one is an injury to all.
Victory to CUPE 561!
Picket lines mean do not cross!
Strike until victory!