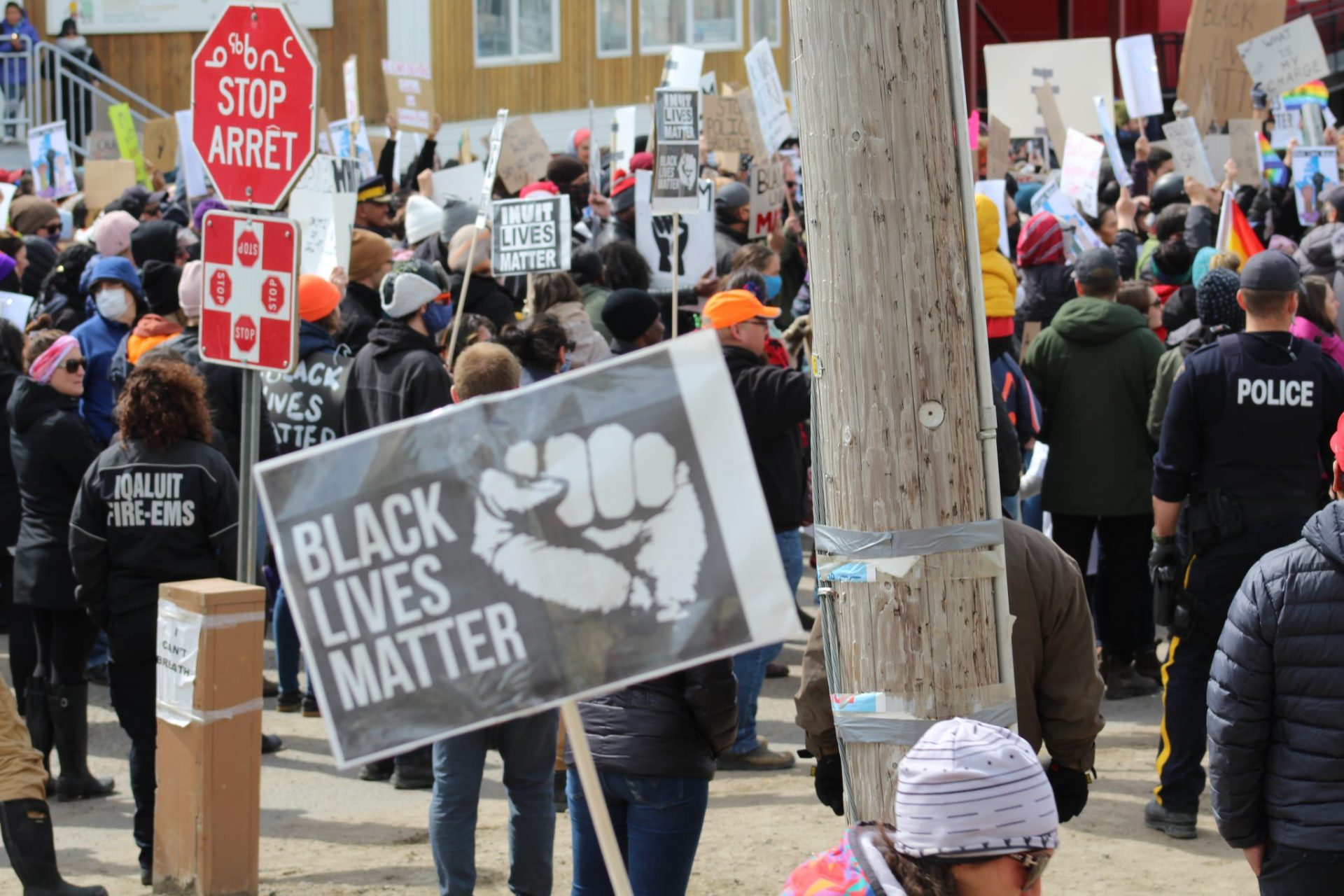 The police murder of George Floyd has sent ripples across the globe.
Protests have erupted almost everywhere demanding racial equality, an end to police violence, and the abolition of police services altogether—including in Canada.
In the past two weeks, anti-racist protests have been held in dozens of Canadian cities and towns, involving some tens of thousands of participants. Big cities like Toronto and Montreal are used to seeing protests, although not of this magnitude or level or political awareness. However, demonstrations have also broken out in many small towns—many of which have not seen protests of any size in years, if not decades. In Canada as a whole, the movement sparked by Floyd's murder is already perhaps the largest and most far reaching in the country's modern history.
Big cities
On June 7, Montreal held one of the largest protests thus far, exceeding the number of participants just the week before. At least 10,000 participated, although this may be an underestimate. The violent protest predicted by some never materialized, save for one mailbox being knocked over. The police, however, still declared the protest unlawful, dispersing protesters with tear gas later in the evening.
In Edmonton, police estimate that over 15,000 took part in the protest on June 6—one of the largest in that city's recent history. Protesters gathered at 4:30pm, with some marching until after 11pm. In Calgary, some 4,000 people attended a protest that same day, after holding earlier protests on May 31, June 1 and June 3—each one larger than the last.
Vancouver held protests on June 5 and 6. On June 5, between 5,000 and 10,000 gathered in the city's downtown. In anticipation of the protest, business owners boarded up storefronts, although no looting or property damage ultimately took place.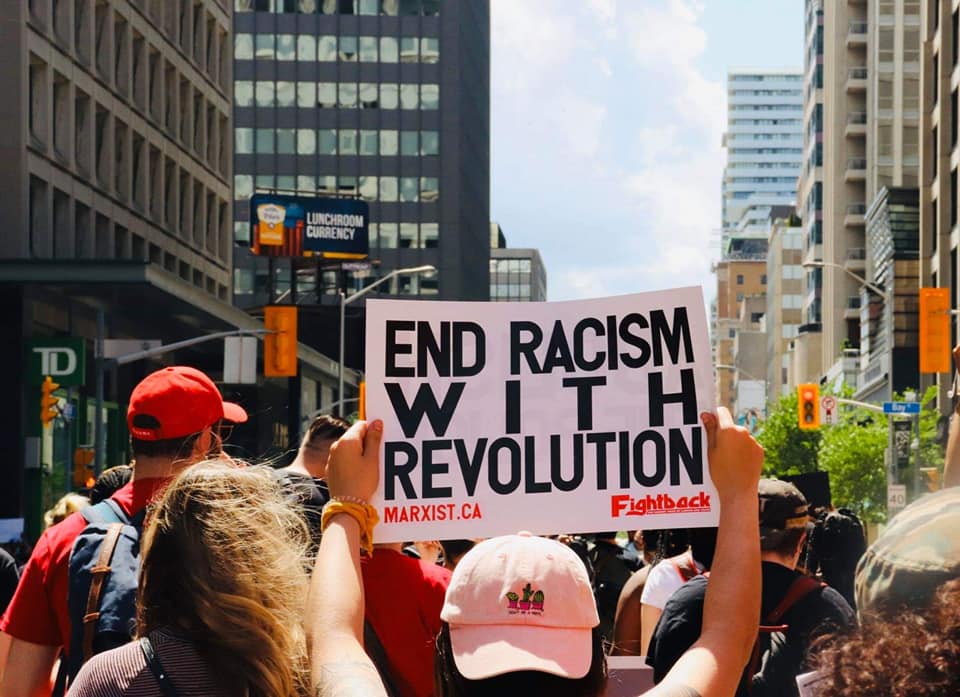 Of Canada's large cities, only Toronto saw a decline in participation from the previous week—although thousands still participated in protests held on June 5 and 6. This is due in part to false media reports about a potential riot being planned, which scared away some participants, as well as various activist outfits spreading unfounded rumours about the protests.
Interestingly, Toronto's protests were the smallest of any major city—and even smaller than certain small cities—despite it being Canada's largest and home to many of the country's activist organizations and "left" personalities.
Fightback and La Riposte activists joined the protests in almost every major city. In many cases, they led chants of "One solution, revolution" and "Abolish the police," being joined by hundreds during the march. In some cities, protesters flocked to the Fightback table, eager to get involved. In every case, activists reported an interest in revolutionary politics unlike ever before. In recent weeks, dozens have asked to join "the Marxists," while hundreds of Fightback and La Riposte newspapers have been sold—a reflection of the maturing radicalism.
Small cities and towns
However, the real significance of the present movement lies in the participation of Canada's small cities and towns—many of which have not seen protests in years, let alone protests of this size.
Protests have taken place in Saskatoon, Moncton, Fredericton, Charlottetown, Burlington, Barrie, Thunder Bay, London, Guelph, Peterborough, Niagara Falls, Rimouski, Sherbrooke, Prince George, Cloverdale, Lethbridge, Red Deer, Llyodminster, and Iqaluit—to name just a few. In fact, almost every Canadian city with a population over 50,000 has held at least one protest in the past two weeks.
In Burlington, Ontario, pop. 200,000, police estimate that up to 10,000 joined a march held on June 4, or five percent of the city's population. In Guelph, Ontario, pop. 135,000, at least 5,000 took part in a protest on June 6—the largest protest in the city since the Metro Days of Action, if not the largest ever. In Thunder Bay, Ontario, pop. 110,000, a city in Ontario's north with a history of police brutality against Indigenous people, some 2,000 joined a protest on June 5. In Niagara Falls, Ontario, hundreds of protesters marched close to the U.S. border, and signalled to protesters on the other side in Niagara Falls, New York. Those on the Canadian side carried a large banner that read "One Voice Two Countries."
In Alberta, sometimes dubbed "Canada's Texas," protests have cropped up in 9 out of 10 of the province's largest cities and towns. This includes Fort McMurray, home to Canada's "oil patch," where 1,000 joined a protest on June 6, and Red Deer, which has held three protests so far.
Canada's remote north has also hosted demonstrations. In Iqaluit, Nunavut, pop. 7,000, hundreds gathered to protest on June 5. The protest here took on a particular importance: a few days earlier, an Inuk man in Kinngait, Nunavut had been intentionally struck by a police vehicle—an experience all too familiar for Canada's Inuit population.
The list could go on.
Long time coming
The protest movement that began in Minneapolis has spread across Canada at a dizzying pace—and with no sign of stopping. How did it happen?
Quebec Premier Francois Legault stated recently that "there is no systemic discrimination in Quebec." Ontario Premier Doug Ford mused that Canada doesn't have the "systemic, deep roots" of racism of the U.S., before walking his comment back due to public pressure.
In fact, Canada has a long history of police brutality against racial minorities—a problem that continues to this day. The incident in Kinngait is not unique; nor is the case of Chantel Moore, a 26-year old Indigenous woman killed by police in New Brunswick after a "wellness check;" or Regis Korchinski-Paquet, an afro-Indigenous woman who fell from a balcony to her death after an interaction with police in Toronto.
The anger felt by racial minorities in Canada has been building up for years—an anger prompted not only by a racist police system, but by discrimination in housing, job access and the "casual" racism experienced over the course of an average day. Toss in the COVID-19 pandemic, which disproportionately affects racialized communities, and the ensuing economic fallout—and you have a recipe for social explosion.
However, the present movement is unlike any before it. In 2019, a protest of 1,000 people would be considered average by Toronto standards—in 2020, it's become a small protest… by Burlington standards. In Fort McMurray, a protest of any size would be considered a freak occurrence in normal times.
Moreover, this movement is notable not only for its scope, but in its dramatic leap in political consciousness.
In the past, demands for "accountability," or the firing of individual police officers were not uncommon to hear at protests. Today, such measures are barely a compromise. In their place, demands for the defunding, and even the abolition of the police have taken center stage. When a police station is burned down, the action is looked on with understanding, if not approval, from a majority of the population—including in Canada.
The ruling class is now scrambling to defuse the situation, lest it intensify further. Quebec Liberal party leader Dominique Anglade spoke at the Montreal rally on June 7, denouncing systemic racism. Justin Trudeau took a knee at a protest in Ottawa, as a sop to demonstrators. Toronto's Police Chief Mark Saunders did likewise, while promising reforms to policing. In many cities, police officers taking a knee or even raising their fist has become a common sight—an action usually prohibited in most police forces. The movement has literally forced them to kneel before it.
However, these gestures have so far failed to appease the movement. People are sick of promises that are never fulfilled. Protesters have moved beyond the vague talk of "hope" and "change" that characterized the Obama years. They are inherently skeptical of politicians and officials who seek to capitalize on discontent but never deliver the goods.
The ruling class is in a state of panic. If they are unable to placate the movement with false promises, as in the past, they are fearful of where it might lead. The movement is no longer satisfied with promises; it is hungry for real change, for the abolition of the present order—and the number echoing its demands grows by the day.
Faced with the pressure of this movement, the ruling class may offer reforms, but they only do so to calm the masses; they will never forfeit their power and privileges. As such, they cannot and will not actually abolish the armed bodies of men that hold it up.
It will take a revolution to knock it down.