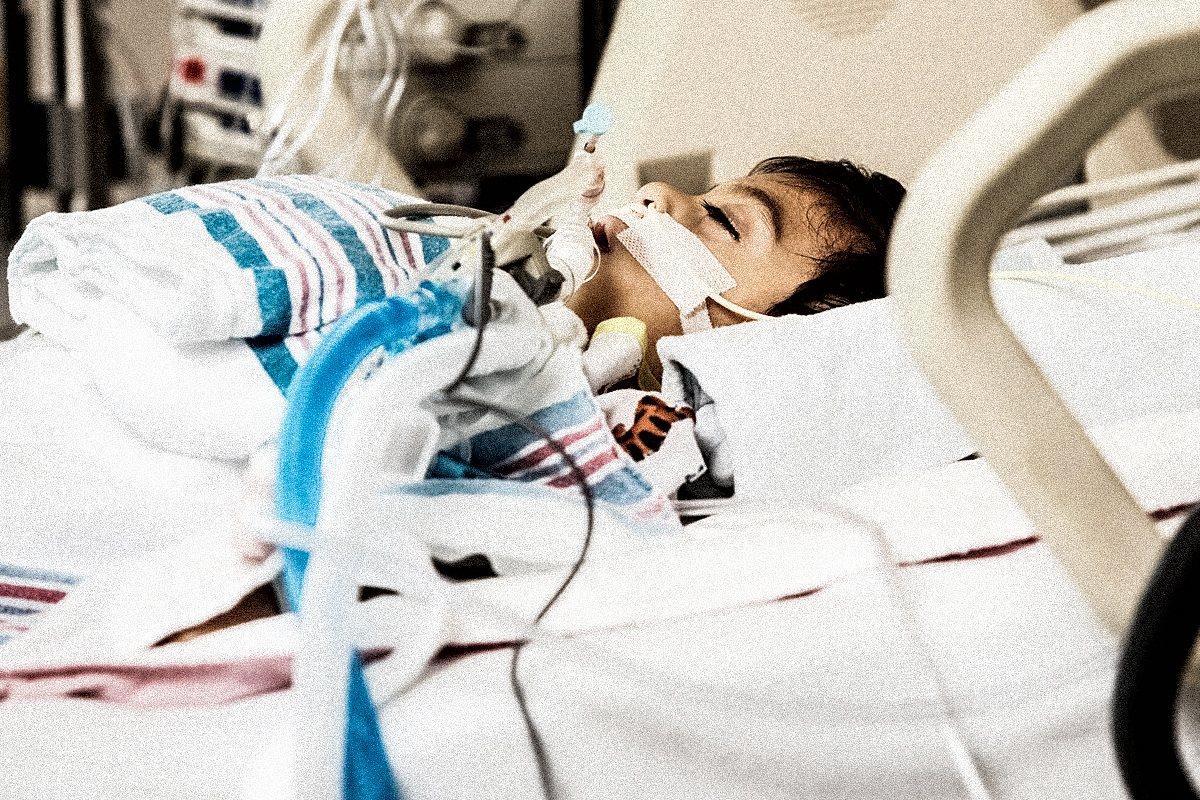 Hospitals across Canada, already in crisis from underfunding and staffing challenges, are buckling under the weight of a surge in respiratory infections among children. Ontario hospitals last week reported triple the number of kids aged five to 17 in emergency rooms with respiratory illnesses, and double the number aged four and under, compared to the pre-pandemic seasonal average. Other provinces report similar surges amid a triple onslaught of flu, respiratory syncytial virus (RSV), and COVID-19. More kids require intensive care than there are beds available. Yet governments have refused to adopt the most basic public-health measures, such as mask mandates and paid sick days for workers.
Sick kids overrun ICUs
As of Nov. 15, there were 114 pediatric patients in Ontario who needed intensive care, but only 112 beds available. A week earlier, the number of children requiring intensive care was 122. Children's hospitals across southern Ontario prepared to transfer teenagers to adult hospitals or specialty clinics and reduced planned surgeries in response to what McMaster Children's Hospital in Hamilton called "extreme challenges" in emergency departments, critical care, and inpatient wards. The CHEO children's hospital in Ottawa described "an unprecedented surge in demand" in its emergency room.
Doctors who spoke to the CBC said the situation was unlike anything they had seen before. "This is something that I'm not used to," said Dr. David Carr, an emergency physician in Toronto. "Pediatric patients rarely require admission, at least compared to our adult patients," he added. "Usually you see a child, they have an ear infection or a sore throat, they go home." Dr. Joe Wiley, chief of pediatrics at Oak Valley Health in Markham, said the number of children coming in with respiratory illnesses was unprecedented, with "much higher volumes and much earlier in the typical cough and cold season than I've ever experienced" and colleagues at other hospitals describing similar pressures.
For parents, the lack of resources to help their children can be terrifying. One mother in Oakville, Keri Graham, recounted her ordeal after her three-year-old son Tyler was diagnosed with RSV and was struggling to breathe. Doctors at Oakville Trafalgar Hospital could not find one bed in the Intensive Care Unit (ICU) and were making plans to send Tyler to an ICU unit in Buffalo, New York until a spot opened up at the last minute at the London Health Sciences Centre. "It was petrifying that the system had zero beds anywhere across Ontario," Graham told CityNews. "Ottawa, London, Hamilton, Toronto, everywhere and there was nothing available, literally not a single bed." She added, "It was a complete whirlwind of panic, stress, and concern of the unknown."
Other provinces including British Columbia, Quebec, Nova Scotia, and Manitoba reported similar data. The number of emergency room visits at B.C. Children's Hospital in Vancouver was 20 per cent higher than normal for the fall months, according to the Provincial Health Services Authority. Montreal Children's Hospital reported more than double the number of patients than beds in its emergency room and higher-than-usual numbers of sick children, including with respiratory illnesses. The IWK Health Centre in Halifax, the main children's hospital for Atlantic Canada, and Winnipeg Children's Hospital both saw a rise in the number of children admitted for respiratory issues.
There are other indicators beyond hospitals of surging illness among children. Edmonton public schools this month reported high rates of students absent because they were sick. On Nov. 7 and 8, at least 75 per cent of 213 local schools reported more than 10 per cent of their students were absent from class due to illness. On Nov. 9 alone, more than 20,000 students in Edmonton were absent. An absence rate of 10 per cent or more requires a school to notify Alberta Health Services, which will investigate whether there is an outbreak.
Physicians have linked the rise in respiratory illnesses among children with the abandoning of all public-health measures to reduce the spread of COVID-19, such as mask-wearing and social-distancing mandates. In the absence of masking and distancing, children are being exposed to more germs. Another factor may be weakened immune response from long COVID. Meanwhile, shortages of medication such as children's Tylenol and Advil mean more parents are unable to control children's fevers at home, requiring emergency room visits.
No leadership from bureaucrats
Responses from bureaucrats in education and government to the deluge of sick children have ranged from inaction to pouring gasoline on the fire. Doctors have called for reinstating mask mandates in schools and other public spaces, but school boards are passing the buck to public health officials.
Edmonton school board chair, Trisha Estabrooks, for example, said in response to the massive uptick in student absences due to illness: "We are not considering a mask mandate as we continue to believe that decisions related to health need to be made by the chief medical officer of health and Alberta Health Services." The only leadership Alberta Health Services (AHS) provided was in the wrong direction thanks to Premier Danielle Smith. Smith's response to the crisis was to fire the AHS board and publicly declare there will be no mask mandates in schools in response to the surge of respiratory illnesses.
In every province and territory, the story is the same: officials refuse to enact new measures. No provinces or territories have brought back mask mandates. Dr. Kieran Moore, Ontario's chief medical officer of health, would say only that he was "strongly recommending" that people wear masks in all indoor public settings including schools, but would not issue a mask mandate requiring them to be worn. Days later, Moore underscored his own hypocrisy and lack of leadership by appearing maskless at an indoor party in a widely circulated video. Yet bureaucrats like Moore act only at the pleasure of premiers like Doug Ford, who himself refused to wear a mask in the legislature the day after Moore "strongly recommended" masks in all indoor public spaces. Provincial leaders, particularly those under the sway of loud anti-vax voices, have political reasons for not supporting mask mandates.
Lack of paid sick days, health care still underfunded
Pressure from business interests is the main reason why more than two years into the pandemic, most provinces have still not increased or improved paid sick leave for workers. Ontario still does not require employers to provide workers with paid sick days. One of the catalysts for the recent defiance of back-to-work legislation by Ontario education workers was Doug Ford's regime seeking to impose a contract that would have cut paid sick days.
In Quebec, workers have two paid sick days, the same as before the pandemic. Workers in Prince Edward Island are entitled to one whole day of sick leave, but only if they have been continuously employed for a minimum of five years. British Columbia last year became the only province to institute five paid sick days, a direct response to the pandemic.
A new federal law that takes effect Dec. 1 requires employers to give workers 10 paid sick days per year. But this only applies to federally regulated sectors such as banking, telecommunications, and transportation between provinces, who represent a mere six per cent of Canadian workers. The Decent Work and Health Network, a non-profit organization of health-care workers, said in a 2022 report that nearly 60 per cent of workers in Canada do not have paid sick days. Among workers who earn less than $25,000 per year, that number increases to 70 per cent.
The Globe and Mail linked the lack of paid sick leave to business groups that have opposed any changes that would benefit workers:
The B.C. government legislated paid sick days in response to a study that found 75 per cent of workers would support five paid sick days. That same study found that only 28 per cent of B.C. employers would support the new law.

The Canadian Federation of Independent Business, which lobbies on behalf of small and medium-sized businesses, opposed the federal sick-days law and urged provinces not to follow in Ottawa's footsteps… The CFIB has long argued that employers can't afford paid sick days, especially considering the financial turmoil many of them endured during the pandemic.
Instead of legislating improvements to paid sick-leave, provinces have sought to subsidize employers by using public money to pay the wages of workers who fall sick:
Some provinces extended government funding to temporarily cover lost wages for workers who were sick with COVID-19 or needed to isolate because of it. The programs used public money to ease the burden on employers, who ordinarily finance paid sick days out of their own pockets. But the funding has already expired, or will soon.

PEI's COVID-19 fund for workers ends Dec. 31, and Ontario's – which reimburses employers up to $200 a day for up to three sick days per employee over the lifetime of the program – expires March 31. To date, the Ontario government has not said if it intends to extend the policy.
With these funds drying up, bosses are once again demanding more corporate welfare to offload the financial burden of paying for workers' sick leave onto the public. The Globe and Mail cited Michelle Eaton, vice president of public affairs at the Ontario Chamber of Commerce, as saying Ontario should continue to reimburse employers for sick leave. But why should the public continue to bail out private employers at taxpayers' expense? For capitalists, the reason is simple: they wish to maximize their own profits by socializing losses. The same thinking drove capitalist governments to implement decades of cuts to public health-care funding as a gateway to privatization.
The lack of paid sick leave for most workers shows how little public-health policy has changed because of the pandemic, but is by no means the only example. The non-profit Canadian Institute for Health Information (CIHI) reports that health-care spending in Canada, which increased by an average of four per cent each year before the COVID-19 pandemic, rose by 13 per cent in 2020. The pandemic drove that unprecedented boost in health-care spending, which was required to keep the system from collapsing. Since then, spending has dropped again. CIHI's latest figures show that health-care spending rose by seven per cent in 2021, but only 0.8 per cent in 2022.
The refusal of provincial governments to significantly improve or expand health-care due to the pandemic must rank as one of the greatest scandals in Canadian history. There has been no major expansion to ICUs, and no preparation for future waves of COVID-19 or other respiratory illnesses such as RSV and influenza. Instead, most workers still lack paid sick leave; governments from Quebec to Ontario to Alberta have imposed wage cuts on health-care workers; and hellish conditions are prompting nurses to leave the profession in droves. Canada's public health-care system is collapsing, and capitalist governments are happy to worsen the crisis to further privatization goals.
Workers can only rely on ourselves to not only protect public health care, but to improve and expand it and fight for policies such as paid sick leave for all. At the time this article was written, Ontario education workers had called off strike action and were voting on a tentative deal. But their willingness to defy back-to-work legislation forced Ford to retreat and shows how workers can fight to improve working conditions and defend health care.
All workers must demand paid sick days to reduce the spread of respiratory illnesses. To end capitalism's public-health disaster, we need to safeguard and expand public health care. We need to fight for democratic workers' control over health and safety policies in our workplaces and communities to decide which measures are needed, such as mask mandates. Above all, we need to fight for a socialist system that will protect workers, children, and the most vulnerable rather than sacrificing them on the altar of profit.
Paid sick leave for all workers now!
Defend public health care!
For workers' control of health and safety!