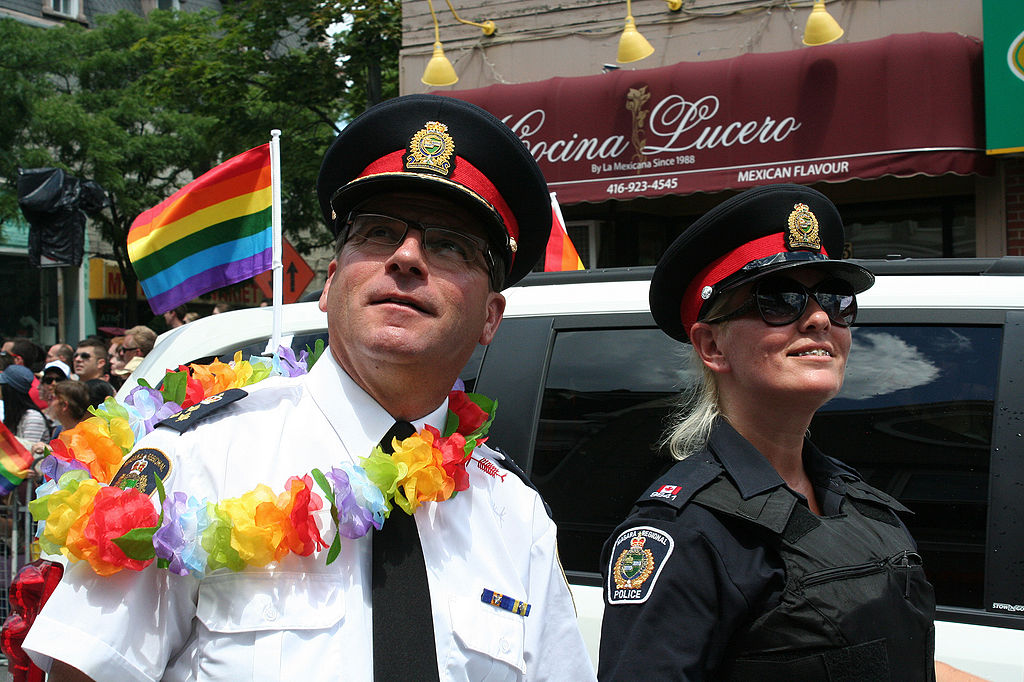 Newly-unearthed documents confirm past Pride Toronto executives discussed a $250,000 federal grant to partner with Toronto police and whitewash the history of anti-LGBT abuse by Toronto police.
Overriding the membership
In September 2016, following a string of police murders in Toronto, hundreds of Black Lives Matter supporters staged a widely-covered Pride Parade sit-in. The organizers put eight demands—including a ban on uniformed police marching in the parade—forward to Pride Toronto executives. Under pressure, Pride Toronto's executives agreed. The following January, Pride Toronto's membership voted in favour of BLM's demands. Members voted again to reiterate BLM's demands again in Nov. 2017.
But by the following fall, Pride Toronto was facing a reported $700,000 deficit. When Pride Toronto's executives looked to the Trudeau Liberals for financial assistance, that assistance seemingly came with strings.
According to documents obtained through access to information requests, former Pride Toronto executive director Olivia Nuamah signed an application form to Heritage Canada for $250,000. The money would be used to commemorate the supposed "decriminalization" of homosexuality in 1969—a dubious history selected, according to the grant, to "further better relationships with police services."
Formally, laws against homosexual acts which occured in private came off the books in 1969. However, homosexuality was still very much criminalized in Canada, and targeted by the police, well after 1969. Notably, in 1981, 286 gay men were arrested and charged in Toronto's infamous "bathhouse raids." Police broke into four sites around the Village with crowbars and sledgehammers, and brutalized community members with effective impunity. In an interview with CBC News, historian Tom Hooper said: "If decriminalization had actually occurred in 1969, we wouldn't have had these massive bathhouse raids in 1981… men were arrested under the Criminal Code—all for being gay."
According to the Nov. 15, 2018 document, the event would have begun with a gala "commemorating 50 years of the criminal law amendment act." That gala would be hosted jointly by Pride Toronto, the Association of Police Chiefs and others as a broader partnership between Pride Toronto, Toronto Police and Public Safety Canada. The grant itself claimed the event was "particularly targeting police services."
On Nov. 24, 2018, Public Safety Canada announced a partnership with Pride Toronto to "improve the relationship between Toronto LGBTQ2 communities and the criminal justice system" and to "raise awareness among Canadians of the 50th anniversary of the decriminalization of homosexuality."
Less than one week later, then-executive Nuamah came out in favour of allowing uniformed police to march in Pride. In Now magazine, Nuamah obfuscated the executives' decision to defy Pride Toronto's membership by calling it a "conversation", and said the "conversation" was "not unlike the ways in which Indigenous communities across Canada fought their colonization." However, as Now reports, the resolution to allow uniformed police a pride float actually reflected the board's belief that "a joint announcement about police participation in the 2019 Pride Parade would facilitate funding."
In early 2019, Pride Toronto's membership voted to reverse the reversal and continue to refuse Toronto Police a pride spot—despite warnings about "funding problems."
Soon after, Canadian Heritage scheduled a call with Pride Toronto on Feb. 4 to "discuss the impact of changes and pressures within the organization on the project being funded by the Commemorate Canada Program." The event was effectively discontinued. By November 2020, Nuamah had resigned and moved to Bay Street, working as "national inclusion, diversity and belonging lead" at PricewaterhouseCoopers. There, Nuamah presumably ensures no Bay Street managers espouse oppressive attitudes in the office while they help the Saudi government privatize water.
Few were sad to see Nuamah go. But this troubling process, wherein Liberal government officials and their priorities overrode those of Pride's participants, reflects a deeper division within the organization.
Who is Pride Toronto for, anyway?
As we've noted before, Pride is for many LGBT people still a demonstration against bigotry and oppression.
For the Trudeau government and its friends on Bay Street, however, Pride is a party for corporate sponsors and bankers who want to know the country's financial centre is also walking distance from a nightlife. Neither group has been on the receiving end of abuse by police or border security, a division of Public Safety Canada.
However, as anti-LGBTQ attacks have increased across Canada—with poor and working class people most often on the receiving end—police have often been found either standing idly by or complicit. See for example "Project Marie", an undercover sting operation in which police arrested men for allegedly seeking sex in an Etobicoke park. On another occasion, while police attacked a man of colour near the Village, one officer was caught on video telling an onlooker that the suspect was "going to spit in your face, you're going to get AIDS." The Toronto Police Service has also itself acknowledged to the media that its past interactions with trans people did not "take full account of their human rights."
Many individual officers have also touted their associations with well-known homophobes and bigots like failed white nationalist mayoral candidate Faith Goldy. Others have provided free security to far-right and fascist groups on too many occasions to count.
The $250,000 grant that Nuamah applied for could have been dedicated to far more useful ends than a gala to serve police public relations efforts. The police exist to serve and protect the status quo. That will inevitably mean tolerating and, indeed, tacitly supporting oppression. The fact that some Pride Toronto executives thought that a "gala" with police and Public Safety Canada officials misrepresenting past police abuse was in any way reflective of their organization's mandate speaks to how distant those executives are from that mandate and from the community.
For a Pride rally to seriously fight oppression, it must be under the firm control of community members. To really combat oppression, we need mass action subject to the democratic control of ordinary people—not the bureaucratic, back-room control of Bay Street and Liberal government insiders.